Sergey Brin's Pink-Wrapped Batmobile Tesla rolls through Google HQ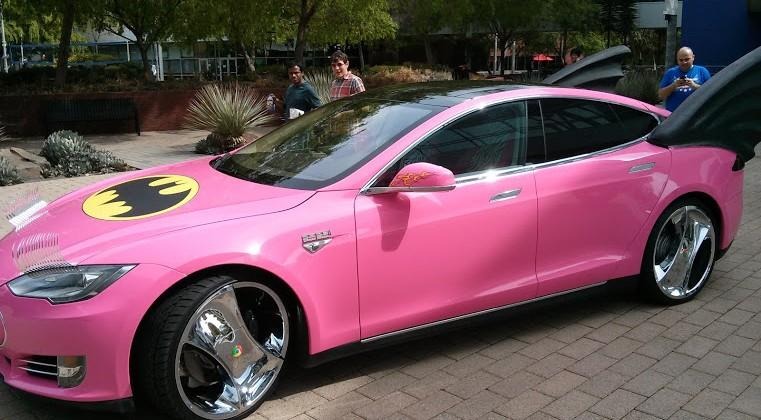 This week if you're in Google's neighborhood in Calofornia, you might be seeing one eye-murdering iteration of an electric vehicle swinging your way, complete with a Batman symbol on its hood and massive plastic eyelashes above its headlights. This is the vinyl-wrapped
late April Fool's Joke the Google executives other than Sergey Brin have played on the man – and yes, he is Batman. And yes, it's not permanent.
Investigators have spotted this vehicle in multiple instances from multiple angles, and have caught it in motion, so there's no reason to think the abomination that is bubble gum pink isn't wrapped around this otherwise glorious electric vehicle. While the custom Google Chrome rims are part of Brin's original build, the rest will only be there so long as the Google head decides they're still funny.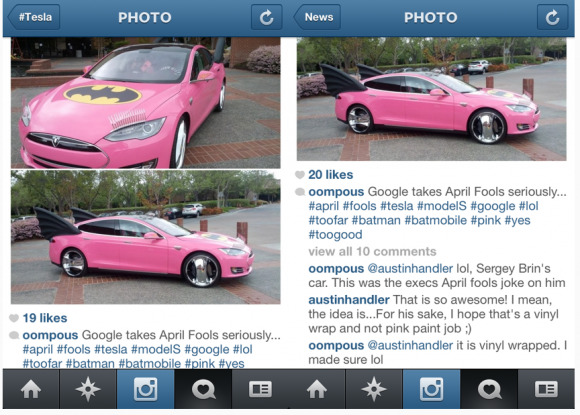 If you head down to the
forums you'll find several ladies and gentlemen confirming that they've been up close and personal with the vehicle – and that it's not painted this way, only vinyl wrapped. The largest photo you see above comes from user Trnsl8r who appears to have caught the vehicle in the wild, parked sideways awaiting its pilot. You'll find zebra print seat and steering wheel covers ready to rock with a pair of pink dice and flames on both mirrors busting out.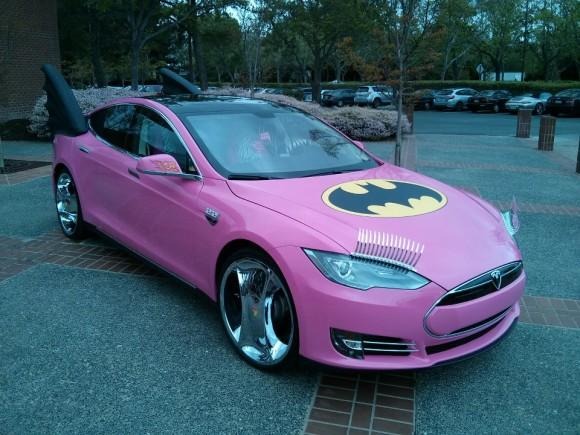 No word at the moment whether or not the Bat Wings on the back of this masterpiece will be auctioned off for the needy. You'll also find Google's
posting an image
up on Google+ and the photo of Brin driving the vehicle was taken by Brian Li, Five Visions Photography and posted to
Keep on rolling right!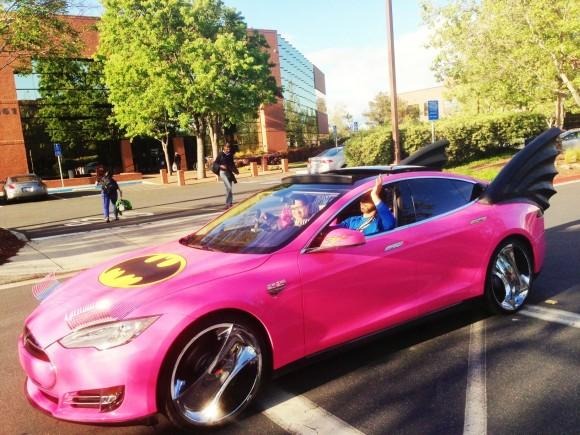 Have a peek at the timeline below for more information on the
Model S and stick around the Google tag portal we've got set up for all the greatest Sergey Brin adventures you can handle each and every afternoon!