Sergey Brin talks Project Glass at IO 2012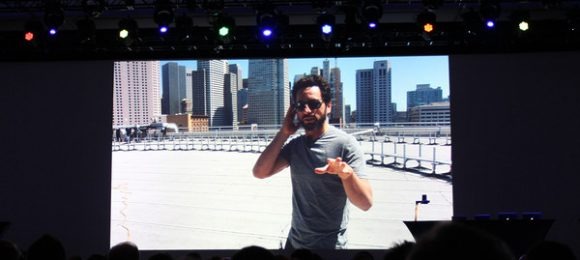 Finishing up the Keynote here Google's own Sergey Brin is showing us a bit more on Project Glass. In case you missed it, yesterday they jumped out of a blimp and landed right on top of the Moscone West Center here in San Francisco for Google IO, and managed to show it all live as a Google+ Hangout thanks to Google Glass.
We are still slowly learning more and more about Project Glass, and have even pre-ordered a few of our own so that's exciting. What is about to unfold is a live Google+ Hangout and skydive all captured again with Project Glass. This time showing us how it's all done right on the live feed. Sergey is on the roof, trying not to get hit by skydivers, and explaining the entire process. Since Google's Project Glass doesn't have 3G/4G capability, they are streaming via a connected WiFi device.
In case you didn't hear yesterday. Google will be allowing IO attendees a chance at an early look and developer kit sometime next year for the tune of around $1,500. We were quick to order a few but will have to wait a little longer before getting our hands on these impressive augmented reality glasses. This same event took place yesterday and you can catch that video from the links below.