Sergey Brin spotted on NYC subway rocking Google Glass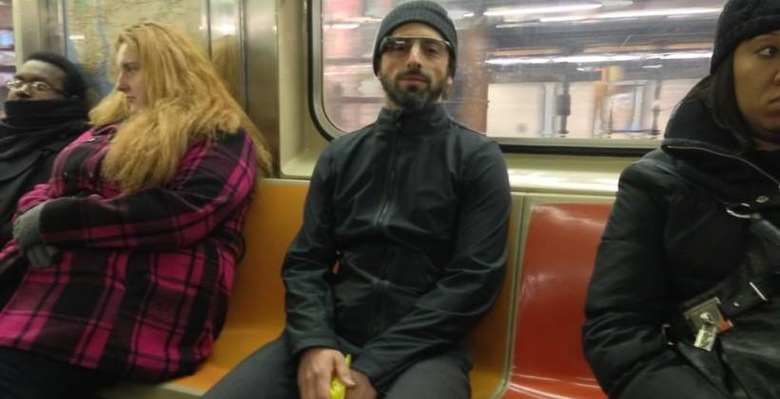 When you're Sergey Brin, you can afford to take a limo through the streets of NYC, though the photo opportunities for your Google Glass headset are probably more plentiful on the subway. Augmented reality enthusiast Noah Zerkin spotted Brin on the downtown 3 train, complete with a surprisingly discrete black Glass wearable, in the latest in-the-wild sighting of Google's head-worn computer.
It's not the first NYC sighting, either; last month, an unknown man wearing an altogether more eye-catching red Glass headset was caught on camera. That version also included what appeared to be prescription lenses, reassuring eyeglasses-wearers that they wouldn't necessarily be left out of the augmented reality fun.
Exactly what Brin was using the headset for is unclear, but its cloud-based functionality is likely to have been significantly curtailed since he was out of signal range. Exactly which features Glass can carry out when isolated from a network, and what relies on access to the Mirror API, have not been explained, but certainly uploading photos and video to Google+ would be out of the question while Brin was on the subway.
The spottings come as Google prepares for a pair of developer events - one in New York, another in San Francisco – at the end of January, at which select coders will get their first chance to cook up apps and features for Glass.
Google is yet to confirm when the first Glass "Explorer Edition" headsets – the $1,500 apiece, early-access units sold to developers at Google I/O last year – will be shipped, and it seems the units at the developer events this month won't be handed out to attendees to actually take home.
[via The Next Web]