Sentri All-In-One Home Monitor Review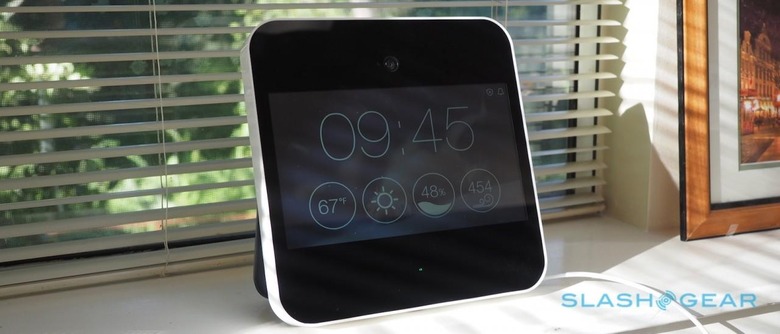 Smart home security is a growing business, and some of the most interesting ideas are coming from start-ups. Sentri is one such example, raising almost $400k after wooing crowdfunding fans with its vision of a touchscreen-based streaming video and home monitoring system. The $299 result aims to be a hub in your home, not just a silent eye on the front door.
It looks, at first glance, like a digital photo frame – remember those? – with oversized top and bottom bezels. The 10.1-inch touchscreen floats in the middle of a 9.4" x 9.4" white, gray, and black box; a plastic kickstand on the back feels a little flimsy but does the job of holding the whole thing up on a table or shelf, or there's a wall mounting hole though then you'll have the USB power cable dangling down.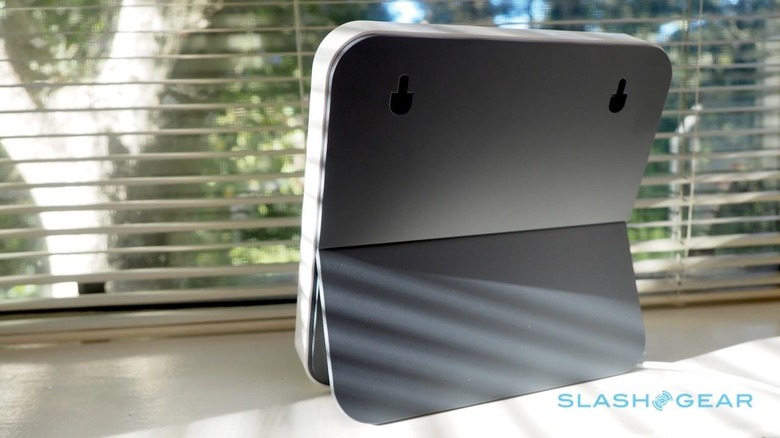 Sentri includes a built-in battery, but its roughly four hours of charge (in Eco mode, with the screen off) are intended more for backup purposes than standalone use. I actually did encounter a power cut during my testing, and for the first few hours at least Sentri remained active, but since there's only WiFi connectivity rather than a cellular modem (and my home broadband was of course dead at the time) I couldn't rely on it to alert me to potential break-ins.
Though there's Android running behind Sentri's custom skin, I only ever saw it on two occasions where the interface crashed and needed to be restarted. That's probably a good thing for consistency, but it does put the brakes on multi-functionality.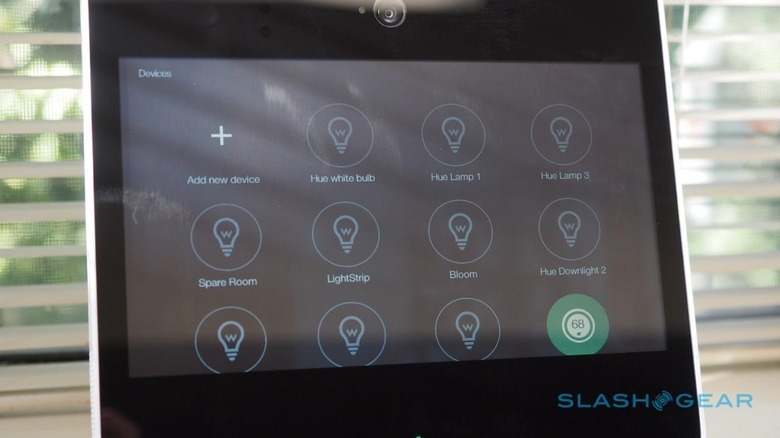 Sentri's interface will let you link a Nest Thermostat, Philips Hue lightbulbs, and Belkin WeMo outlets, and control them through the touchscreen or the security system's companion app. More partnerships are in the pipeline, the company tells me, but there's no public timescale for them.
That means no using Sentri as a recipe browser – you can't directly access the internet from it – and no streaming music through Spotify or Google Play Music. Even though there's a camera, microphone, and speakers, you can't use Sentri as a video calling station with Skype or Hangouts. Even the native functionality is fairly limited: you can set different wallpapers, or have them cycle through automatically, but you can't point Sentri at a Flickr gallery or save a bunch of your own photos to have displayed.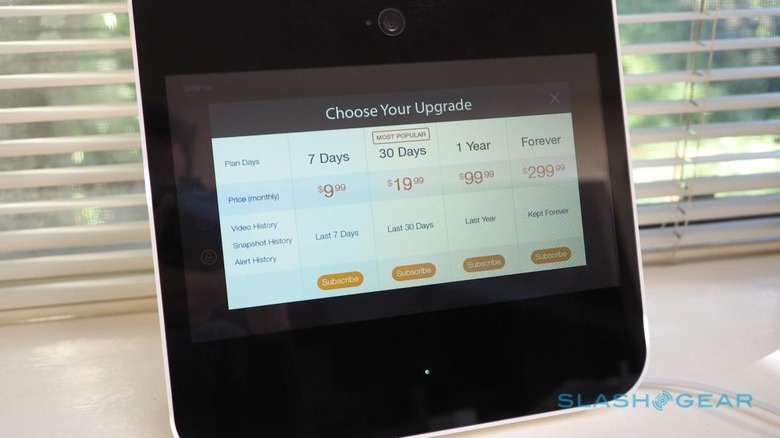 In fact, there's no memory card slot or provision for onboard storage at all. Sentri relies on the cloud, with a month's trial of its premium service out of the box, and a subscription for all but the most basic access afterwards.
The free tier gets you access to the last twelve hours of video recorded, plus alerts and the Sentri timeline of events. $9.99 per month increases that to seven days of video history, while $19.99 a month bumps that up to 30 days, and $99.99 a month extends it to a full year. Even on the free package, you can use the iPhone and Android apps to connect remotely and stream live video.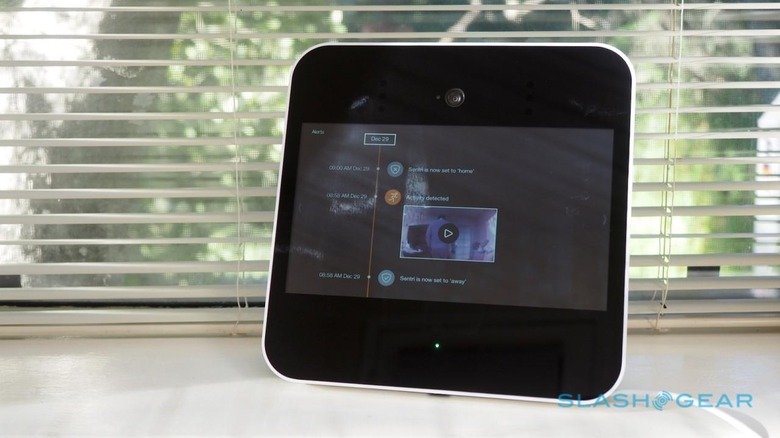 The clips themselves are locked in the cloud, however, and there's no provision to download them. Footage itself is limited predominantly by the quality of the camera: Sentri records at 720p, with a 120-degree lens and night vision courtesy of a bank of IR LEDs. Altogether, it's enough to identify a nearby face or check that the kids have returned home from school on time, but I did find my daytime video often had a weird pink tint to it.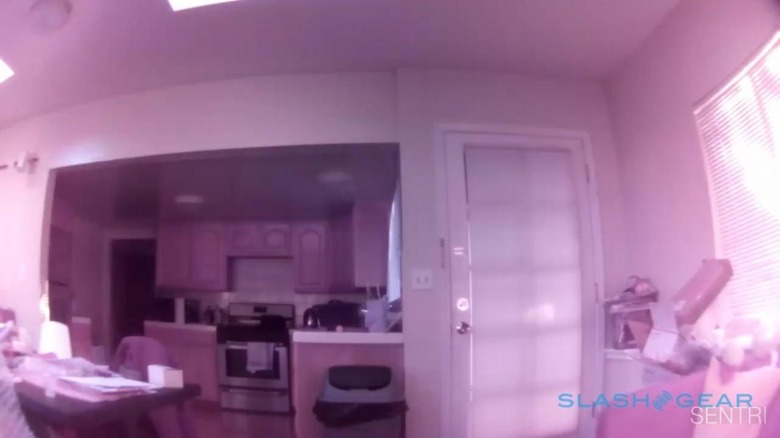 Should the worst happen, and an intruder actually break in, it's up to you to respond. Sentri will film the whole thing, but you need to use the app to trigger the system's onboard siren. If you have Hue lights or lamps plugged into WeMo switches, you can turn those on through the app too, but there's no apparent way to have them triggered automatically.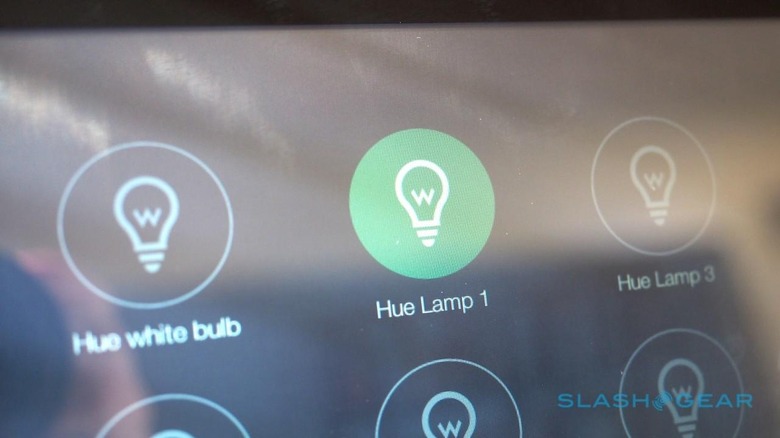 While you can review photos and videos from Sentri itself, you can't delete them. That means, even if a canny burglar tries to remove any footage of their intrusion, they won't be able to.
As part of a smart home, meanwhile, Sentri is more of a spoke than a hub. Its home screen shows the time, temperature, weather forecast, humidity, and air quality (you can see them remotely in the app, too), with an alert icon to remind you if there's a new entry on the timeline, which is a side-swipe away.
Sentri measures things like volatile organic compounds (VOCs) in the air, but unfortunately not carbon monoxide, which would've been a handy addition. The touchscreen itself has a little lag but, given how infrequently you'll likely use it, that's no great deal-breaker.
NOW READ: Nest Thermostat (2015) Review
How useful third-party device integration will be to you depends on how well invested you are with Nest, Hue, and WeMo, and where the Sentri is. If your thermostat is tucked out of the way, rather than more readily accessed, then this could be handy, though most of the time I found it was easier to pull out my phone and adjust temperatures from there.
Similarly, assuming you put Sentri somewhere with a view of the front door, it might not be your first port of call to turn on lights and such. Hue bulbs can be toggled on and off from Sentri, but their color and brightness can't be adjusted; they'll resume whatever they were set to last.
I like the easy visibility Sentri offers to temperature and weather conditions, but all the same, I can't help but think that a few simple tweaks would much improve the user-experience. Having to put it into "home" or "away" mode manually meant that sometimes I just plain forgot to, and neither Sentri nor Nest communicate home/away status with each other. Geofencing support in the app would be an easy fix there.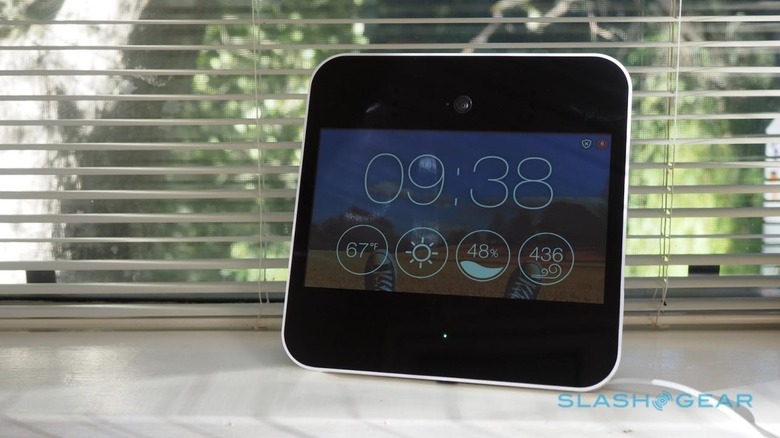 At $299, Sentri is at the high end of pricing for a streaming home security camera. Nest Cam, for instance, is $100 less but offers 1080p resolution; Piper is also $199, and has select smart home integration too.
The big differentiator is the touchscreen, and how much value you place on that will ultimately come down to where you plan on putting Sentri and how often you want to interact with it physically, rather than through an app. If future iterations of the software bolster the home automation support, and make greater use of the display, Sentri could better distinguish itself from camera-centric rivals.
MORE Sentri
[gallerybanner p="420196"]