Sensor-based fluorescent lamp reduces power by 60 percent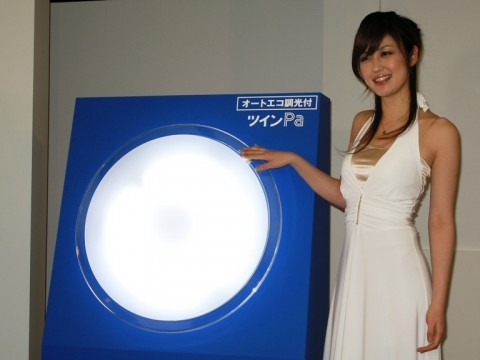 We've seen Bravia Eco TV with sensor-based practice to adjust LED backlit in real time, the similar trick is now being used in a Panasonic produced home-user fluorescent lamp to exhibit its effectiveness in cutting down your power bill.
The Panasonic "Auto-eco Light-control Twin Pa" is not your typical round ceiling light, it's equipped with a luminance sensor and a microprocessor to calculate ranges and degrees of reflection (at initial setup), and amount of ambient lights so the lamp luminance output can be precisely adjusted at each second.
The ambient light sensor scans an area of 10 feet in diameter, and the initial luminance output can be further adjusted in the range of 10 to 100% increment; changes are rapid in small step, thus are virtually undetected.
According to Panasonic, it's industry's first home-user lighting devices with rapid brightness outputs, and has a proven result to have reduced power consumption by 60 percent.
The product comes in two flavors, a 89-Watt HHFZ4320 with an estimated street of 35,000 ¥ ($387) and a 74-watt HHFZ4220 model with 32,000 ¥ ($354).