Sony Eco TV gets tested in Japan, 40% power reduction reached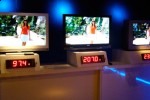 Coming this summer of 2009, Sony will release a series of Bravia Eco TV in the range 40-inch, 46-inch and 52-inch widescreen displays, which utilize a presence sensor-based function and a higher luminous efficiency HCFL light source at deduced size, to cut down power consumption as low as 40%. The same technology, were in fact, being used at current V5 series TV lineup, and the folks at Nikkie were invited to examine its features and effectiveness in dealing with the power saving modes.
The exhibition was held last week at the Ikejiri Institute of Design, Japan. Three display models from a 40-inch V5 LCD, 40inch V1 LCD and nearly a decade old 36-inch CRT TV were put on display to compare the total power consumption of each set. At one scene, still image taken and shown above, indicated more than 50% power reduction with the newest technology. Now, as you probably know, the comparison could have minor flaws due to the different settings or display modes being used on the TVs. For instance, the extreme dynamic mode is known to have consumed more energy due to its nature of high luminance output, and the same picture mode could be different from one set to another.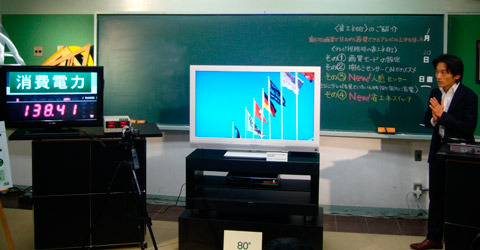 To test the effectiveness of the presence sensor, the energy intakes were measured on a lone V5 series TV with sensor turned on and off in Dynamic mode. Once again, Sony Eco TV will able to deliver more 40% power reduction as claimed, a 140 watt dynamic driven picture was slashed to around 60-70 watts with the help from the presence sensor.
So what's behind the "Presence Sensor" and how does it effect the power consumption?
According to Nikkie, it's an infrared sensor placed in the lower center part of the front face to scan moving objects in a range of 80° and 30° at both horizontal and vertical directions. It's constantly communicating with the display to alter the luminance of the backlit depend of surrounding ambient brightness, not much different than the dynamic backlit module on one of my Panasonic display eh?
But the Sony ones does better with wider scanning areas, and is capable of sensing the presence of moving objects, to the distance of 10-16 feet for large object, and up to 10 feet on smaller objects. When there's on one surround, it will shut the display off completely, and turn it back on with sense of movement within its scanning area. The time interval can be set from seven seconds, five minutes, half an hour to one hours, just don't stay still with those setting, you don't your TV program to shut down in the middle of playing "24". I am sure they missed to mention the "disable" button on the auto turn-on feature somewhere, it could be annoying right?
[via Nikkie]