Self-driving cars get UK green-light for public roads in 2013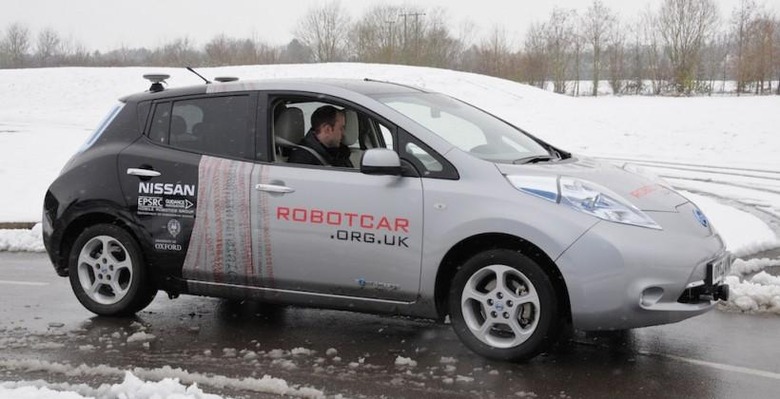 Self-driving cars will take to public roads in the UK before the end of the year, the UK government has confirmed, though as in the US a human backup driver will be required behind the wheel. Initial trials will see the autonomous cars of researchers such as those at Oxford University venture off the private property they've been tested on so far, and onto quieter rural and suburban roads, a Department for Transport [subscription required] paper outlines, and are part of the UK government's attempt to cut congestion with a total of £28bn ($43bn) in overall investment.
Autonomous cars won't get all of that funding, but the loosening of restrictions on where they can be driven will at least give researchers the opportunity to refine their systems. The Oxford team has been using a modified Nissan Leaf as the basis of its system, fitted out with a combination of laser arrays and cameras to track the environment around it.
According to the government paper, cars will navigate "using knowledge of the environment in which they are driving" though it's unclear if that means they will need to be pre-prepared with mapping data. "They maintain a safe distance from the vehicle in front at a set speed and without deviating from their lane – all without the driver's input" the paper suggests.
Such systems – lane control and the ability to follow traffic – are already available on commercial vehicles, though they fall short of full autonomy. The 2014 Mercedes S-Class, for instance, includes Distronic Plus, which can control steering and the accelerator/brake, navigating lanes and following vehicles in front. It also has active lane-keeping assistance, together with brake-assist which can automatically boost braking power when the car spots crossing traffic or pedestrians.
Volvo is also experimenting with similar technology, including using traffic-identification cameras to flag up potential hazards to the driver. The Swedish company has also developed a self-parking system which could work as an autonomous valet.
Meanwhile, self-driving cars have already racked up a significant number of public road miles in the US, with Google's project perhaps the best-known. Commercial vehicles are some way off yet, but the US government is already considering the evolving requirements of licensing and driver tests.
For instance, while fully-autonomous cars – classed "Level 4" by the US NHTSA – might remove all of the responsibility for the driver, they're still completely far-fetched. Instead, "Level 3" models, capable of self-driving for the most part, but potentially requiring human intervention in unusual circumstances, might demand new testing to recognize the changing role of the person behind the wheel.
VIA BBC