Self-Cleaning Cat Box - now if only it swept up all the cat hair in your house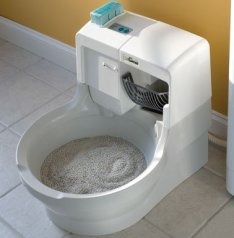 Those of you that own a cat know the joys of cleaning out the litter box. If you're looking for a lazy way out, besides leaving the litter box for an extra few days, you may want to check out this hi-tech solution.
I truly deeply hate cleaning out the litter box, I attempted the more expensive scooping it out everyday option but found that I'm much too lazy to do that. Therefore I now buy the ultra cheap brand and clean it out whenever it starts to smell. This litter box is great for those with a little extra dough and like doing things the lazy way.
Just press a button and it will use a mechanical scoop to remove the "waste" while filling up the basin with water and a cleaning solution rinsing the granules eliminating both germs and odors. After it's finished the built-in hot air blower kicks on to basically blow off the stink. Although it is priced at $329.95 I'd consider saving my pennies to get one.
Self-Cleaning Cat Box [via ubergizmo]