Segway has revealed its new CES 2020 range, with a foldable electric scooter and a weird balancing seating-pod on wheels trundling into the Las Vegas show. The Segway S-Pod and Segway KickScoot Air T15 promise two new – and easier – ways to deliver electric transportation, including for those unable or unwilling to stand up.
Segway S-Pod
Is it a futuristic escape pod, or a mid-century modern armchair on wheels? However you view the Segway S-Pod, there's no denying that this has to be the most comfortable of the company's balancing scooters so far.
Rather than forcing the rider to stand up at the handlebars, the S-Pod gives them a proper seat. It's a little like a wheelchair in that way, and indeed there's a joystick controller to navigate the S-Pod rather than Segway's traditional method of recognizing where the rider is leaning. The reassurance is that not only does the chair have the company's self-balancing tech, but some backup wheels too.
There are two small wheels at the back, and a third at the front; it's unclear when they're deployed, though it's possible that they come into play when the S-Pod is trying to climb up steeper slopes. Top speed, Segway says, is 24 mph which seems unexpectedly fast. Range is almost 44 miles, Segway says, and the current prototype S-Pod can handle up to 10-degree inclines.
Segway won't, at least initially, be selling the S-Pod to individual riders. Instead it sees it as having potential in theme parks and malls: areas where mobility can be an issue. Just like flocks of stand-up Segway scooters have become commonplace in tourist areas, then, perhaps one day we'll see a group of these motorized egg-chairs zipping around as well.
Segway KickScoot Air T15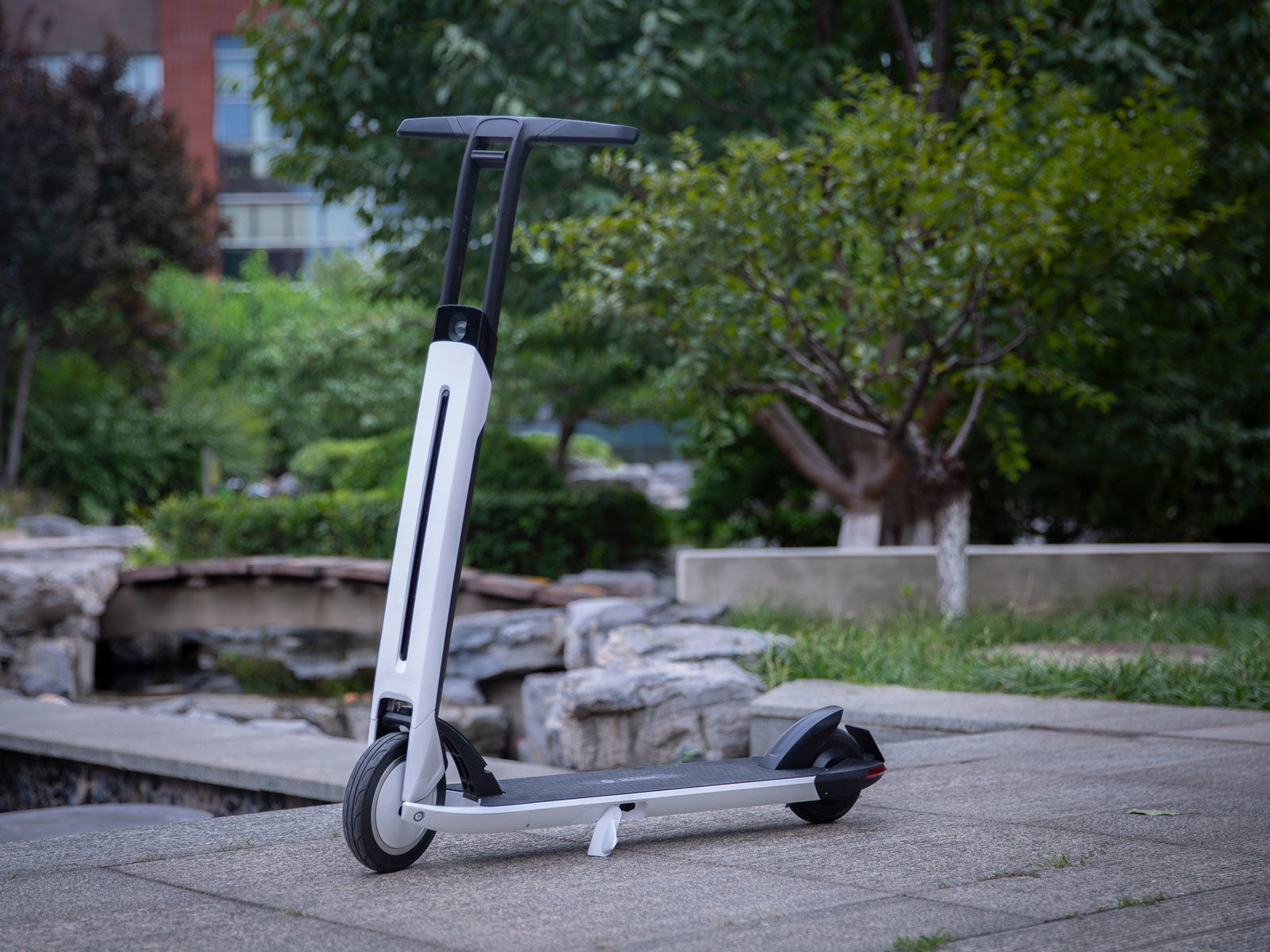 Compared to the S-Pod, the KickScoot Air T15 e-scooter seems positively normal. That's probably a good thing, though, as Segway actually intends to sell this one to consumers. The promise is a 12.4 mph top speed, around nine miles of range, and a new way of controlling the pace.
Most electric scooters use some sort of thumb-trigger: press the trigger more, and the e-scooter goes faster. The Air T15, though, figures out its speed automatically, depending on how fast you kick-start it. Kick faster, and the scooter gets faster; a brake on the rear wheel slows things down. It'll apparently handle up to 15-degree inclines, too.
Foldable, the KickScoot Air T15 weighs 22 pounds, which is actually on the light side for an e-scooter. It's expected to go on sale later this year, priced at $799.