See how matte black iPhone 7 stands up to bend & scratch tests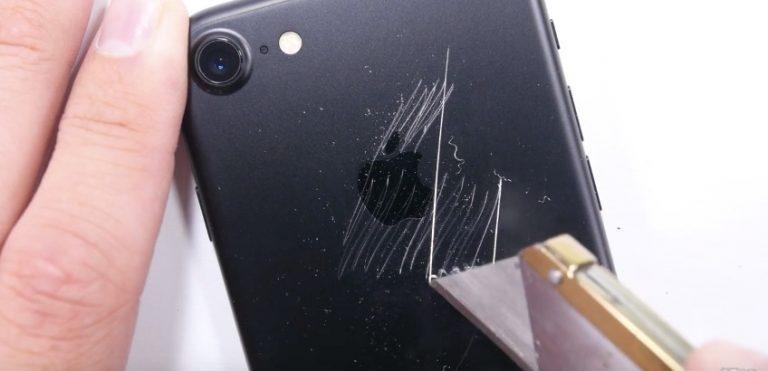 The new iPhone 7 and 7 Plus are slowly rolling out to buyers around the globe today, and while we've already the larger device go through a teardown, now it's time to see how the standard 4.7-inch model stands up to bending and scratching. YouTube user JerryRigEverything has basically put an iPhone 7 in the new matte black color through a torture test, going as far as scratching it with a utility knife and subjecting it to extreme pressure.
Starting with the rear side, JerryRigEverything's video reveals that the iPhone 7's anodized aluminum continues to stand up to scuffs and scratches from everyday objects such as keys. A car key is firmly dragged across the matte black surface several times, and any marks left simply wipe away, leaving no trace. The razor from a utility knife, as you'd expect, easily scratches the aluminum, leaving deep cuts with significant pressure applied.
As for the front display, mineral test picks confirmed that the glass ranked a level 6 on the Mohs hardness scale, standard for smartphones using the latest version of Gorilla Glass. This means that the screen isn't as strong as a sapphire display, but it's more than enough to prevent scratches from things like coins and keys.
The results of the last two scratch tests are a bit questionable, as the video claims that both the rear camera's cover and the Touch ID home button are made of glass, while Apple's website states that both use sapphire. Both surfaces stood up to scratching from the razor blade, but level 6 test pick did leave marks, indicating that the material used is three levels below sapphire on the Mohs scale.
As for bending, the iPhone 7 uses 7000 series aluminum, the same as last year's iPhone 6s models, meaning it's incredibly unlikely to bend in someone's pocket — unlike what we saw with 2014's iPhone 6. JerryRigEverything puts an extreme amount of pressure on the device with his hands — the type that would certainly never occur in everyday use — but the aluminum maintains its shape. However, the pressure does cause the display to separate from the chassis, revealing the adhesive.
Taking everything into account, the video confirms that the iPhone 7 is more than strong enough to stand up to most everyday use, and could still withstand an extreme case scenario with minor cosmetic damage. It seems the area most likely to be damaged is the back surface, and that's only if it's subjected to something really sharp like a knife. If that's a concern for you, using a case is a no-brainer solution.
SOURCE JerryRigEverything/YouTube