Secret No More: Guardians of the Galaxy's Thanos revealed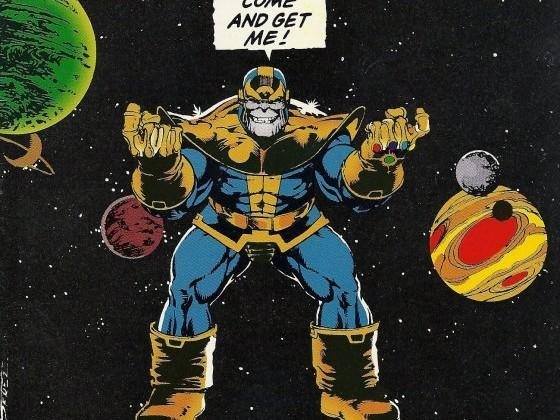 This morning the friendly folks at Marvel have made their release of Thanos official. While we've seen Josh Brolin wield the glove – he'll play Thanos in the Marvel Universe films – we've only seen a glimpse of Thanos before now, after the credits of The Avengers. That was a different actor though, and though close, not exactly working with the same look as the final Thanos.
The following is not necessarily a spoiler. I'm not a huge fan of spoilers, and try to avoid reporting on them whenever I can (for movies, anyway). But Marvel itself has released a high-powered image of Thanos in his most famous pose: sitting on his throne, looking all mighty.
ABOVE: Post-credits scene from the first Avengers film. This is not new – the image you're seeing below is new as of today, August 1st, 2014.
Avengers 2 will not feature Thanos – as far as we know. While his appearance in the second Avengers film was denied by Kevin Feige during SDCC, he also added that "I think Thanos does what he wants and shows up when he wants to, and I'm not gonna tell him otherwise." This comes from a chat with a "small group of press" which included ScreenCrush, who add that Fiege also stated "by the way, we're still making 'Avengers 2,' so nothing's definitive one way or the other, actually."
Above you'll see a thumbnail of Thanos as delivered by Marvel official. Tap it to make it massive. We'll expect to see this fella even closer before the month is through.
Have a peek at our Avengers tag portal and the extended look we've had over the past several weeks. SDCC revealed its fair share of Avengers news as well as tidbits from throughout the Guardians of the Galaxy film and extended brand outshoots – stay tuned!