Seagate FreeAgent Go HDD gets Paramount movie pre-load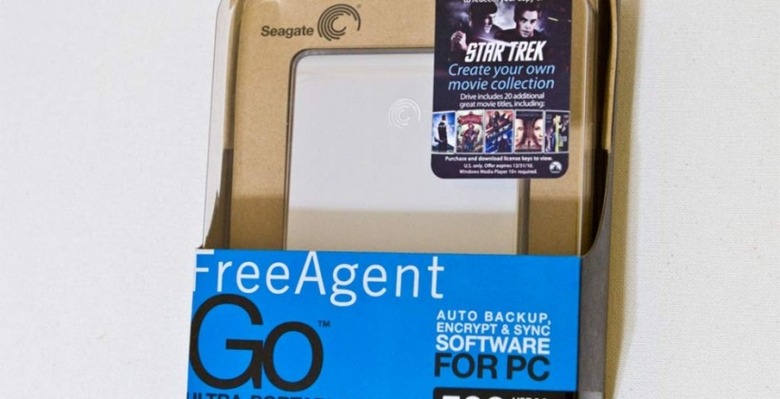 We can't say we've ever felt the pressing need to save time and download energy by buying our external storage and digital movies at the same time, but Seagate's latest FreeAgent Go offers just that simplicity.  The 500GB USB 2.0 portable hard-drive comes preloaded with twenty different feature-films, although you don't actually get them included in the purchase price; instead, Seagate – and Paramount Pictures, who they've partnered with for this – allow you to pick which titles to unlock, charging you between $9.99 and $14.99 for each one.
To get you in the mood, a copy of the latest Star Trek movie is included in the sticker price of the drive, and the media files themselves are licensed for playback on multiple platforms.  They're not DRM-free, however, and Seagate will be pushing out a firmware update for their FreeAgent Theater+ media player later in April so that you can watch the movies on your HDTV simply by docking in the hard-drive.
The full list of pre-loaded titles is in the press release below, but it includes a range of classics like The Hunt for Red October up to newer releases.  You can also delete them if you'd rather have the backup space, of course.  The Seagate FreeAgent Go 500GB HDD is available now.
Press Release:
AN INDUSTRY FIRST: SEAGATE OFFERS FREEAGENT GO™ HARD DRIVES PRE-LOADED WITH PARAMOUNT PICTURES' FEATURE FILMS

Ultra Portable Drive Comes Pre-loaded with One Movie for Activation and Twenty Other Films for Purchase to Help Jump Start Consumers' Digital Movie Collections

SCOTTS VALLEY, Calif. — April 12, 2010 — Today, Seagate (NASDAQ: STX), the worldwide leader in hard drives, and Paramount Digital Entertainment, a division of Paramount Pictures Corporation (PPC), a global producer and distributor of filmed entertainment, announced their agreement to pre-load a selection of 500GB FreeAgent Go™ ultra-portable hard drives with Paramount movies. Beginning immediately, United States' customers who purchase specially marked packages of the award-winning FreeAgent Go ultra-portable hard drive will be able to activate Paramount Pictures' popular film, Star Trek (2009), for no additional fee. This collaboration between two industry leaders underscores a new era in digital movie collecting by enabling people to build, store and enjoy their personal libraries of favorite films in their preferred medium—whether on the computer or the TV—at home and on the go.

In addition to Star Trek (2009), those who have purchased the specially marked hard drives also receive an assortment of 20 Paramount Pictures movies pre-loaded on the FreeAgent Go 500GB ultra-portable drives that can be easily and securely unlocked through the online purchase of a license key. The films will be licensed for multiple devices to allow for portability and enjoyment of them on a desktop computer, laptop computer, or widescreen television, using the FreeAgent Theater+™ HD media player[1].

"Seagate and Paramount Pictures are delivering major motion pictures to consumers in a unique and innovative solution. For years Seagate hard drives have been powering the devices that allow consumers to enjoy their digital libraries. Today, we are simplifying content delivery by giving consumers the ultimate flexibility in how they enjoy their movies all in a convenient package," said Dave Mosley, executive vice president, Sales, Marketing and Product Line Management, Seagate.

To take advantage of this special offer, simply purchase a specially marked 500GB FreeAgent Go ultra-portable drive from Seagate.com, or wherever Seagate FreeAgent Go portable hard drives are sold. After online registration of the drive, a promotional code will be provided for redemption at http://seagate.paramountshop.com. Redeeming the offer code provides the license key to unlock Star Trek (2009) and the option to purchase additional keys to unlock the remaining film titles that are pre-loaded on the drive.

A choice of up to 20 popular Paramount titles can be unlocked for a fee[2] including:

The Curious Case of Benjamin Button

GI Joe

Shooter

The Hunt for Red October

The Italian Job (2003)

Ghost

Patriot Games

Beowulf

Enemy at the Gates

The Spiderwick Chronicles

The Love Guru

Coach Carter

The Manchurian Candidate (2004)

Nacho Libre

Jackass 2.5

A Plumm Summer

Carriers

Dance Flick

Jimmy Neutron: Boy Genius

Sky Captain and the World of Tomorrow

"Collaborating with Seagate on this massive movie pre-load reinforces our commitment to embrace technologies that give consumers choice and flexibility in how they access and purchase their digital entertainment. Paramount Digital Entertainment has created a powerful solution that allows companies like Seagate to offer a seamless experience for consumers to access and securely activate pre-loaded movies, ensuring that exciting films are available everywhere they wish to enjoy them," said Malik Ducard, senior vice president, Digital Distribution, The Americas, Paramount Digital Entertainment.

"And with over 38 hours of movie viewing enjoyment pre-loaded onto the portable device, we are offering consumers a great opportunity to jump start their digital libraries."

About Paramount Digital Entertainment

Paramount Digital Entertainment (PDE) is a division of Paramount Pictures Corporation. PDE develops and distributes filmed entertainment across worldwide digital distribution platforms including online, mobile and portable devices, videogames, and emerging technologies.

Paramount Pictures Corporation (PPC), a global producer and distributor of filmed entertainment, is a unit of Viacom (NYSE: VIA, VIA.B), a leading content company with prominent and respected film, television and digital entertainment brands. The company's labels include Paramount Pictures, Paramount Vantage, Paramount Classics, MTV Films and Nickelodeon Movies. PPC operations also include Paramount Digital Entertainment, Paramount Famous Productions, Paramount Home Entertainment, Paramount Pictures International, Paramount Licensing Inc., Paramount Studio Group, and Worldwide Television Distribution.