Seagate Certified GoFlex Storage System will see HDDs dock in TVs, Plug PCs & more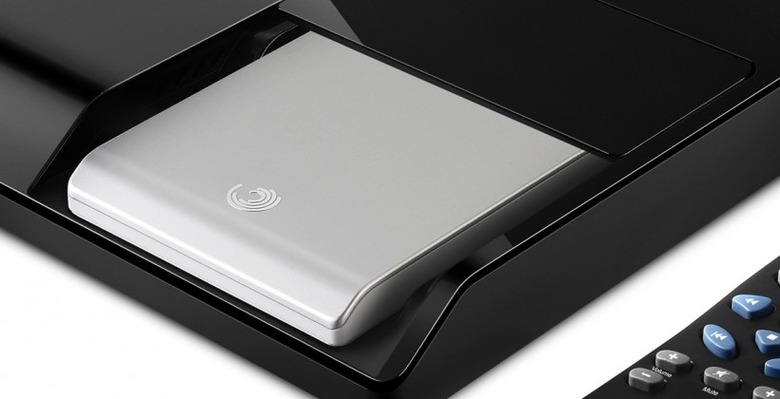 Seagate has announced the Certified GoFlex Storage System for third-party manufacturers, that the hard-drive company hopes will see more GoFlex-compatible HDD docking bays fitted to third-party devices like media players. Until now, only Seagate has released such devices – like the FreeAgent Theater+ – but with the new certification program other companies will be able to dock directly with the 2.5-inch portable drives.
So far, Seagate has signed Antec, GIEC, Hi-Sense, Ionics and Thermaltake up to the Certified GoFlex Storage System, and the company will be showing off GoFlex docks in TVs, notebook and desktop PCs, a plug computer, DVD and a docking station. No word on when we could expect to see the first of these reach the market, however.
Press Release:
SEAGATE UNVEILS CERTIFIED GOFLEX STORAGE SYSTEM FOR THIRD-PARTY MANUFACTURERS DRAFT

Continuing the Vision of Interoperability and Removable Cartridge

Storage, Seagate and Partners

Showcase Concept Products at CES

LAS VEGAS, NV – January 4, 2011 – Driving a new era of how people

consume their digital content, Seagate (NASDAQ: STX) today announced, at

the Consumer Electronics Show in Las Vegas, a new program to allow

third-party companies to incorporate slots on their products to support

removable GoFlex(tm) external hard drives. First introduced in May of

2010

, the GoFlex(tm) family is the

next evolution of consumer external hard drives providing the ability to

use an assortment of storage products and interfaces to correspond with

consumer's needs. The Certified GoFlex(tm) Storage System concept

products on display range from media players and set-top boxes to

computers and televisions, and each will incorporate a slot to accept an

ultra-portable drive compatible with the Certified GoFlex Storage

System. This group of third-party prototype products underscores the

growth of digital media consumption on an increasing number of consumer

electronic products. The Certified GoFlex Storage System will provide a

seamless method by which people can copy, record, access, share and

enjoy more of the music, photos and videos they crave on a wider range

of devices.

The Certified GoFlex Storage System initiative is a certification

process whereby Seagate will qualify products from participating

companies to incorporate slots that meet the specifications of accepting

ultra-portable drives that meet the Certified GoFlex Storage System

standard. The Certified GoFlex Storage System will establish placement

of both slot-based consumer electronics devices as well as certification

of third-party external storage modules. Seagate's certification also

endorses the soon to be established SATA – IO Universal Storage Module

(USM) specification.

"When Seagate first introduced the GoFlex(tm) storage family last year,

our objective was two pronged: first, address the three major hurdles of

storage adoption — interface flexibility, operating system freedom and

enjoyment of content beyond the compute environment. Secondly, Seagate

wishes to expand the use of storage beyond the typical use-case scenario

of back up and migration of files for the computer," said Patrick

Connolly, vice president and general manager for Seagate Retail. "The

Certified GoFlex(tm) Storage System is the next step in realizing this

vision and establishing hard drives as the next generation of recordable

media."

Since the GoFlex ultra-portable drives are also standardized on the new

SATA USM specification

, third-party manufacturers can build GoFlex certified products to

accept a 2.5-inch ultra-portable external hard drive. These third-party

products will help transform the GoFlex ultra-portable drives from an

external storage device to an easy-to-use, detachable storage module

that will enable consumers to access digital content from a variety of

consumer electronic devices. With this initiative, Seagate is actively

involved in leading the shift of digital media consumption from mobile

and computing environments to the living room using home entertainment

devices. These Certified for GoFlex Storage System third-party products

will, for the first time, allow consumers to make choices based on their

own storage needs.

The SATA USM specification is a standard specification to accept a

complete, powered external storage device into consumer electronic

devices. Modules designed according to the SATA USM specification will

enable consumers to instantly access their music, movies, photos and

other content from a variety of consumer electronics products, and to

seamlessly transfer content between devices.

"The growing number of consumer electronics product types with embedded

storage is allowing hard disk drive manufacturers to expand into new

markets. As they expand beyond their traditional home computer markets,

drive manufacturers are pursuing embedded storage solutions in products

other than personal computers," said Kurt Scherf, vice president and

principal analyst with Parks Associates. "Seagate Technology's emphasis

on targeting consumer electronics such as digital video recorders,

gaming devices, digital music players, and digital cameras has allowed

it to expand sales of hard drives and provide consumers with greater

flexibility when it comes to consuming, sharing, saving and enjoying

their content."

Seagate will highlight a variety of applications enabled by USM devices

using the Certified GoFlex Storage System. Additionally, several

consumer electronics manufacturers will be showcasing their Certified

GoFlex Storage System concept products at the 2011 Consumer Electronics

Show in Las Vegas. The showcase will include a television, notebook

computer, desktop PC, plug computer, DVR and docking station. The

companies showcasing these new prospective product capabilities include:

Antec , GIEC ,

Hi-Sense , Ionics

and Thermaltake

.