Seagate Backup Plus Portable 5TB crams 1TB data per platter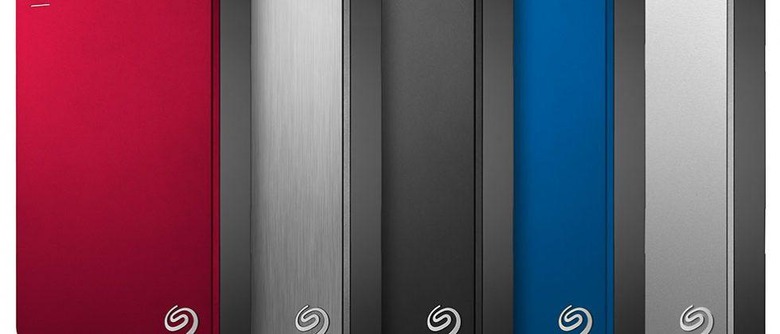 Seagate has announced a new external storage drive that is portable has has lots and lots of storage space. The drive is called the Backup Plus Portable 5TB drive and it is the largest capacity mobile drive on the market. Seagate says that the high-capacity portable drive is perfect for users who like to shoot 4k video and high-resolution images.
Inside the portable enclosure is a Seagate BarraCuda internal drive that packs 2.5-inch 1TB platter technology. That internal drive was launched last month and the Backup Plus 5TB drive will be the first drive to ship with the BarraCuda 5TB drive inside. The drive will support PC and Mac computers if the user installs the NTFS driver for Mac.
It connects to your PC via a USB 3.0 cable. The drive is 20.5mm thick and has an aluminum cover for durability and looks. Seagate shows that the 4-5TB drives can reach max data transfer speeds of 120 MB/s. The Backup Plus Portable 5TB external hard drive will ship this month in black, silver, red, and blue colors for $189.99.
That price is not bad at all for 5TB of storage space. Dimensions are 113.5 x76 x 20.35mm. An exact date for availability this month is unannounced. Seagate also has a 512GB external SSD called the GameDrive coming out this month. This is a storage drive designed specifically for the Xbox One console, it will be offered for $199.99.
SOURCE: Seagate