Seagate 9mm GoFlex and GoFlex for Mac drives unveiled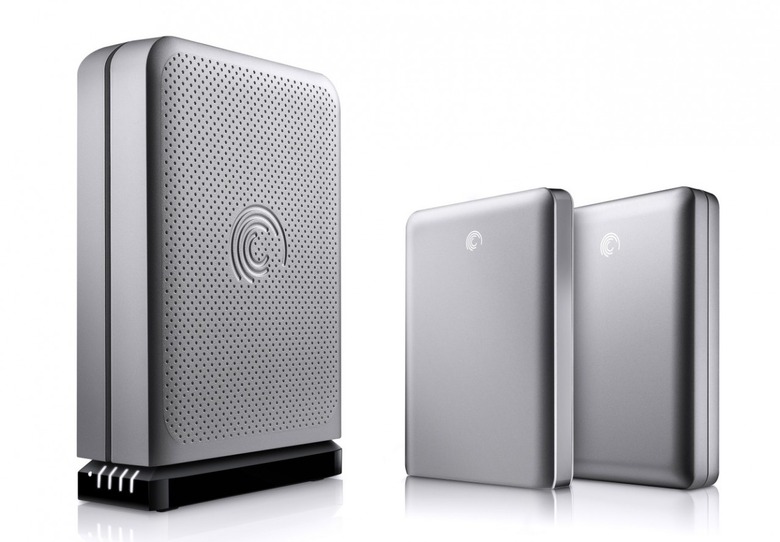 Seagate has outed a new range of hard-drives at CES 2011, including the company's slimmest drive to date, the 9mm thick GoFlex, and a range of GoFlex for Mac drives compatible with Apple's OS X. The new Seagate GoFlex 9mm drive has a USB 3.0 connection and squeezes a 2.5-inch HDD into a slick aluminum chassis.
As for the Mac range, that consists of the GoFlex for Mac ultraportable drive in 1TB ($199.99) and 1.5TB ($249.99) capacities, the GoFlex for Mac Limited Edition 1TB portable drive ($199.95), and the GoFlex Pro for Mac ultraportable, offering 500GB for $149.99 or 750GB for $179.99. Finally there's the desktop GoFlex Desk for Mac drive, a 3.5-inch unit available in 2TB ($219.99) or 3TB ($279.99) capacities.
All of the Seagate Mac range come with interchangeable USB 2.0 and FireWire 800 cables, and can be used with the company's media player docking stations. The Seagate GoFlex 9mm drive is expected to drop in spring 2011; price tba.
Press Release:
SEAGATE SHOWCASING ITS SLIMMEST DRIVE YET AT CES 2011

The continued growth of personal digital media stores, our increasingly

mobile lifestyles and proliferation of mobile consumption devices are

driving the demand for slimmer, more portable storage solutions.

Netbooks and mini-computers are great at consumption, but limited when

it comes to creation or accessing and storing high-definition content.

The new thin GoFlex is a super-slim, 2.5-inch external hard drive

designed for portable, entry-level laptops and netbooks. At a

razor-thin 9mm-38 percent slimmer than the current GoFlex ultra-portable

drives-the new thin GoFlex fits easily in a pocket, purse, briefcase or

backpack, allowing consumers to carry, access and enjoy their favorite

digital content with them wherever they go. At official launch the

product will be available in 320GB capacity, and is equipped with a

USB3.0 interface to accelerate transfer speeds up to 10x faster over

USB2.0, this prototype drive delivers quick access to large, multi-media

files such as HD movies and video games. This thinner GoFlex also allows

consumers to save, access and share files with either Windows or Mac OS

X systems or devices, while maintaining cross-platform interoperability,

making it the perfect storage enhancement to every mobile lifestyle.

The thin GoFlex 9mm drive packages style, mobility and performance,

making it perfect for customers who desire cutting-edge technology with

a fresh, cool look.. Its ultra-slim, black, brushed aluminum enclosure

with tuxedo black lining make a swanky accoutrement to any home or

office environment, while still looking chic on the go. The product is

expected to be publicly available in spring 2011.
Press Release:
SEAGATE INTRODUCES GOFLEX FOR MAC EXTERNAL DRIVES DRAFT

-New Collection of FreeAgent(r) GoFlex(tm) for Mac External Drives Are Designed for Mac Enthusiasts While Maintaining Cross-Platform Compatibility

LAS VEGAS, NV – January 4, 2011 – Addressing the personal preferences of

the Mac community, Seagate (NASDAQ: STX) today introduced a new

collection of GoFlex(tm) for Mac external drives designed to make it

easy for those who use Mac OS X and Time Machine to backup, shuttle, or

share their digital content.

These new portable and desktop solutions are HFS+ formatted

out-of-the-box, making them fully compatible with Apple Time Machine(r)

backup software, while maintaining the ability to work across both

Microsoft(r) Windows(r) and Mac OS X computers. A truly unique feature,

GoFlex for Mac drives can also be used with computers running Windows by

simply downloading an HFS+ driver for Windows from Seagate.com

, which will provide full

read-write access to the drive from a Windows computer.

Each GoFlex for Mac product comes bundled with FireWire(r) 800 and USB

2.0 adapters and cables-the most popular interfaces for Apple

computers-but also delivers the flexibility to change the drive's

interface to USB 3.0 or powered eSATA for use with Windows computers.

The GoFlex(tm) interface cables help deliver the speed, performance and

connectivity people need, as well as to help safe guard their

investments against changing technology. To deliver a fresh look that

fits seamlessly with today's Apple product line, each 2.5-inch,

ultra-portable drive in the family features a durable, soft-touch,

metallic finish, which is also designed to withstand scratches,

fingerprints or other marks incurred from travel.

The new line-up of GoFlex(tm) for Mac external drives include:

o GoFlexTM for Mac ultra-portable drive- This 2.5-inch portable drive

is now designed specifically for use with Apple's Time Machine right

out-of-the-box, easily go back in time to access changes or file updates

were before they were made. MSRP $199.99 for 1TB, and $249.99 for 1.5TB.

o GoFlexTM for Mac Limited Edition ultra-portable drive-The GoFlex(tm)

for Mac Limited Edition ultra-portable drive packs 1TB of storage into

the standardized 2.5-inch form factor, making it the slimmest high-cap

drive available on the market today. With a depth of 12.5mm and shorter

in length than an iPhone , the GoFlexTM

for Mac Limited Edition is perfect for use with GoFlex TV or GoFlex Net.

MSRP $199.95 for 1TB.

o GoFlexTM Pro for Mac ultra portable-This 7200RPM, 2.5-inch drive

delivers advanced performance for those professionals who place high

demands on their storage, such as graphic artists, musicians,

videographers or photographers. Using the included Firewire 800 cable to

achieve transfer speeds up to three times faster than USB 2.0. MSRP

$149.99 for 500GB; $179.99 for 750GB.

o GoFlexTM Desk for Mac drive-This 3.5-inch high-capacity external

drive includes a flexible design that can sit horizontally or vertically

to fit your workspace. Back up files using Apple's Time Machine.

Optional software displays the drive's real-time capacity with lights on

the dock and includes other useful tools. MSRP $219.99 for 2TB; $279.99

for 3TB.

In addition, each GoFlex for Mac drive can be used with other devices in

the GoFlex(tm) Storage System such as the GoFlex(tm) Net media sharing

device

and the GoFlex(tm) TV HD media player

[1]. These solutions provide the flexibility to enjoy content on

a TV or a mobile device, such as an iPad or smart phone. There is also

an option to download additional software for use with all GoFlex for

Mac drives that will provide helpful utilities such as a control to turn

the activity lights off and a tool to verify that the drive is

functioning properly. Each drive in the family also comes backed by a

Seagate three-year warranty, helping to protect your investment and

providing peace of mind.

"With over 10 billion songs downloaded from the iTunes(r) store and

Apple's market share continuing to grow year-over-year, the growing

audience for Mac OS X will need external storage to backup all their

digital content," said Darcy Clarkson, vice president of Global Retail

Sales and Marketing for Seagate. "Today's product introduction addresses

these current market trends and underscores Seagate's commitment to

delivering flexible, easy-to-use solutions that meet varying customer

needs."