Seagate's 14TB hard drives drop huge storage in your PC or NAS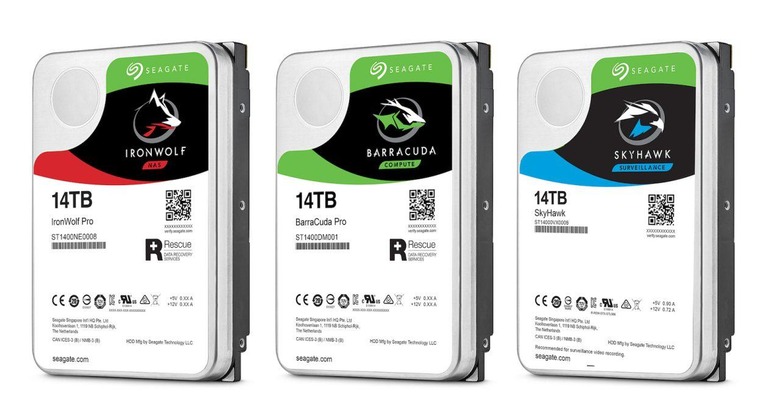 If you want maximum storage in a single drive, Seagate may well have just the hard-disk for you. The drive-maker's latest range packs a whopping 14 TB of capacity, with multiple models targeting everything from desktop PCs through to network-attached storage and more.
For the desktop, the Seagate BarraCuda Pro 14TB delivers the maximum goods. Targeted at workstation users, whether they be managing large codebases or handling huge amounts of multimedia content, the new drive promises 250 MB/s data transfer rates.
It's a 7,200 rpm drive, with up to 256 MB of cache and burst data rates of 6 Gb/s. Seagate's Multi-Tier Caching Technology (MTC) is onboard, too, mixing NAND flash and Media cache layers for maximum performance. Despite that, the drive-maker says, it's actually unexpectedly frugal when it comes to power consumption. Indeed you're looking at around 6.9 W of typical consumption when operating, 4.9 W in idle mode, or just 0.8 W when in sleep or standby modes.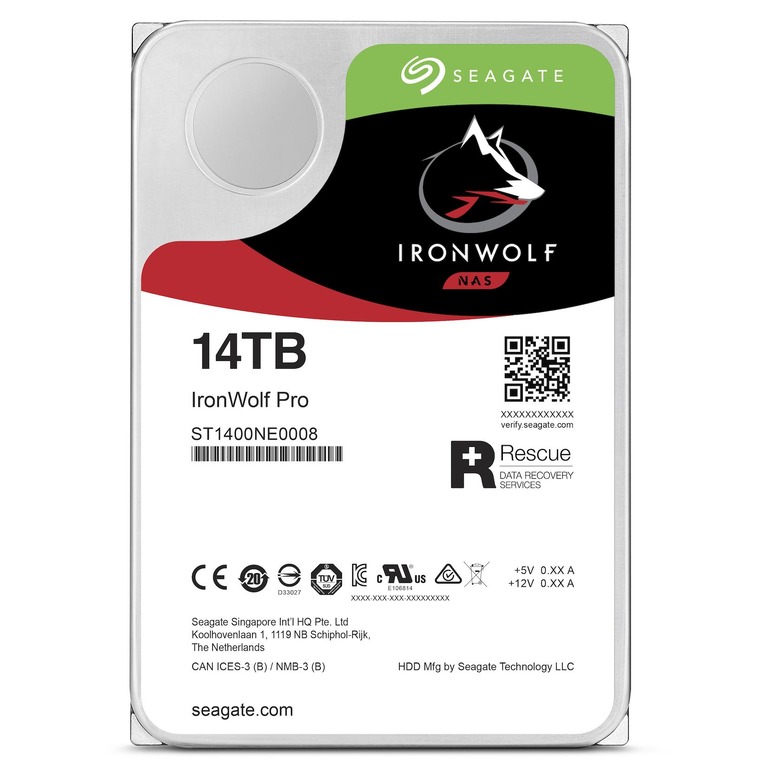 As for NAS purposes, there the Seagate IronWolf and IronWolf Pro 14TB drives step in. Both use the company's AgileArray technology, for dual-plane balancing and RAID optimization for multi-drive devices. They also get Seagate's IronWolf Health Management system, which claims to reduce the likelihood of drive errors – or help recover from them.
The IronWolf 14TB drive spins at 7,200 rpm, and has up to 256 MB of cache. It's rated for 180 TB/year of multi-user use, and 1 million hours mean time between failures (MTBF); Seagate gives it a three year warranty, and there's optional rescue service support. Maximum sustained transfer rate is 210 MB/s, with the average operating power being 7.9W and idle average being 5.3W.
The IronWolf Pro 14TB kicks the maximum sustained transfer rate up to 250 MB/s, with the same power consumption. It's also rated for up to 300 TB/year of multi-user use, and 1.2 million hours MTBF. Seagate adds another two years to the warranty, taking it up to five in total, and throws in rescue service support as standard.
The Seagate IronWolf and IronWolf Pro 14TB are available now, priced at $529.99 and $599.99 respectively. As for the BarraCuda Pro 14TB, that's also available now, priced at $579.99.