Sea Shadow stealth boat goes up for auction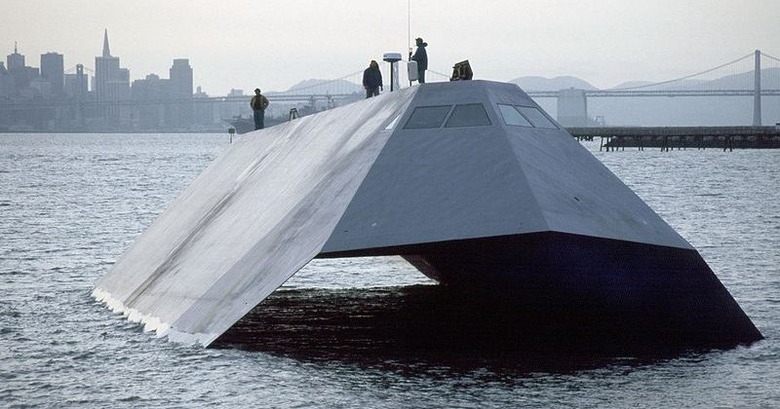 The US Navy is auctioning off the stealth boat that provided the inspiration for the James Bond film Tomorrow Never Dies, though the buyer must break the ship down for scrap rather than stage any clandestine raids. Sea Shadow was a 1983 project into marine stealth technology that, for almost ten years, covertly sailed the oceans without nary a blip on radar screens. However, after hopes of donating the ship to a museum failed, the Navy decided scrapping it was the only way to dispose of it.
An ongoing auction- at just over $100,00 at time of writing – will see Sea Shadow sold off as scrap to the highest bidder. Set to end on Friday, the sale also includes the vast Hughes Mining Barge-1 (HMB-1) in which the stealth ship was constructed from independently commissioned parts, so as to escape the watchful eye of Russian spy satellites. It also served as the ship's garage and, post-2006, its warehouse as the Navy attempted to find a long-term home.
Despite several interested parties, no museum placement could be found for Sea Shadow. Although it is visually distinctive, its limited interior space – a side-effect of the radar-slipping design – makes it poorly suited to the sort of public tours museums might want to conduct.
The winner of the auction will have to operate under strict security guidelines in dismantling the ship, as per usual naval practice. Although it must be removed from its current berth - along with the barge housing it – within thirty days of closing, the scrapping process itself must take place within the US and with full monitoring by the US government.
Built by Lockheed Martin, Sea Shadow borrowed stealth technologies from radar-avoiding planes such as the F-117 Nighthawk, including various absorbent materials and steeply-bowed sides that scatter radar signals. A catamaran, it has a propeller, aft stabilizer and inboard hydrofoil at the end of each strut, with crew space for twelve inside. Although never – as far as publicly known – equipped with live weaponry, the concept was that such a ship could covertly approach enemy ships and territory and gain a great tactical advantage.
There's more information on Sea Shadow at Wikipedia, and a photographic tour of the ship here.
[via The Sacramento Bee]