Sea of Thieves' The Hungering Deep update dated in new trailer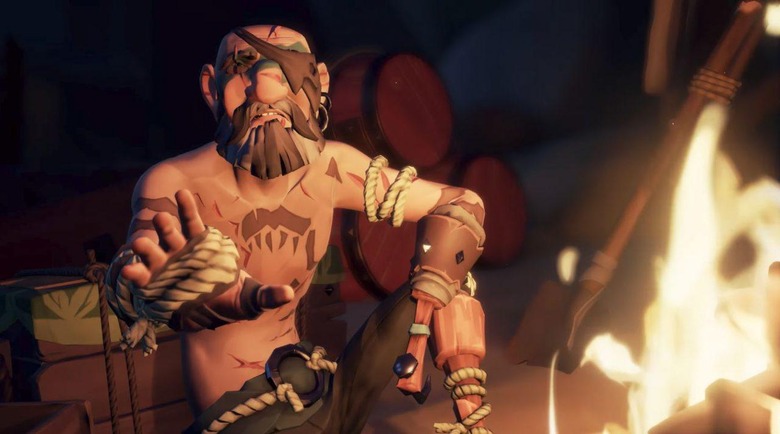 Last month, Rare detailed its plans to expand the rather light content offerings of Sea of Thieves throughout 2018. There will be a total of six content updates released over the rest of the year, the company said, and the first one is called The Hungering Deep. Rare has launched a new trailer for The Hungering Deep, which tells us when we can expect the new content to arrive.
True to its original promise, The Hungering Deep will launch on May 29, so we're under two weeks out from release at this point. The trailer itself doesn't really reveal any specific details about the new content found in The Hungering Deep. Instead, it features an old and worn pirate named Merrick recounting legends of massive sea monsters.
According the legend, these sea monsters were so feared that ancient sailors came to view them as gods, offering sacrifices to the depths so they could sail the seas unharmed. While many people simply consider these to be monsters to be the stuff of fairy tales, Merrick claims that he knows they exist. Now, he says, reports of massive sea monsters that can devour ships whole are starting to spread, suggesting that players will go up against these creatures of legend in The Hungering Deep.
Of course, the little information presented in the trailer lines up well with what Rare said about the expansion back in April. The content update will add a new AI threat that players will have to team up to defeat, and the trailer even suggests that crews will have to work together to summon the monster before they can confront it.
The new AI monster isn't the only thing The Hungering Deep adds. We'll also see new rewards and mechanics launch with the content update, but for now, details on those are pretty much nonexistent. Then, once The Hungering Deep arrives, we'll be on to larger updates called Cursed Sails and Forsaken Shores later on in the summer. We'll have more details about those once in due time, but for now, head down to the comments section and let us know if you're excited to play The Hungering Deep.