Sea of Thieves content updates release schedule and more detailed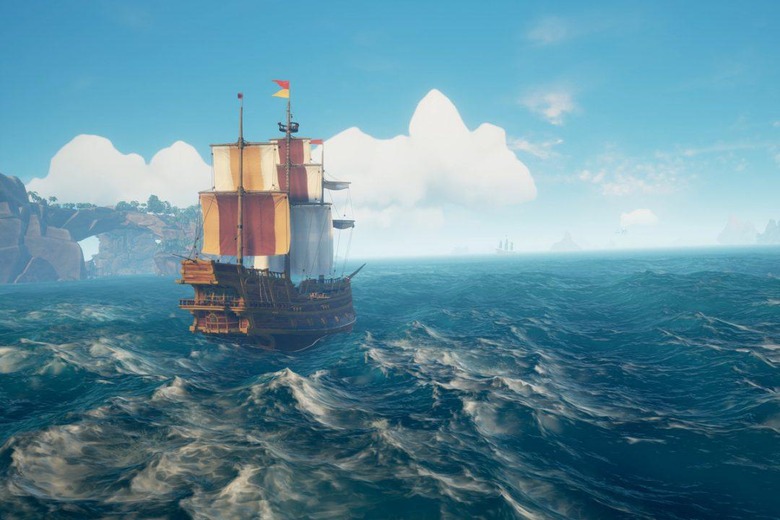 Sea of Thieves, for as cool as sailing around with your friends is, has something of a content problem. Though the basis of great game seems to be in place, right now, it can feel like there isn't all that much to do. Now that launch has come has gone – with a few bumps to smooth out along the way – Rare can turn its attention toward building out the game's content, and it plans to do just that.
Rare has detailed its content plans for Sea of Thieves in a new post over on the game's official site. The developer says that there are specific areas of focus when it comes to adding new content to the game, as it considers whether or not the content that's being added does things like enrich the world or "encourage different types of player encounters." Increasing the variety of goals and rewards is also on the list, as is "broadening the journey to Pirate Legend and beyond."
With those goals in mind, Rare will have its first in a series of content updates ready to go next month. This first content update will be called The Hungering Deep and promises a new AI threat for players to confront. It sounds like this threat isn't something you and your friends will be able to handle alone, as Rare says "crews will have to work together to discover and defeat this threat as part of a unique event."
Completing The Hungering Deep will earn players unique rewards, and Rare plans to introduce some new mechanics that players will use as well. That isn't all Rare has slated for the month of May, as it's also going to launch a new weekly events program. This will be used to introduce new mechanics and goals for players to complete, with special rewards for those who do.
As we move into summer, we'll see the release of two new content updates: Cursed Sails and Forsaken Shores. Cursed Sails will add a ship type to the game, while Forsaken Shores will add a new area to the world map to explore. These two sounds more like expansion-sized updates than The Hungering Deep does, but we'll have to wait until all of them are detailed further before we can make a confident call either way.
For more in-depth conversation about Rare's plan for new content, have a look at the video above. Even though Sea of Thieves feels fairly content-light at the moment, it's nice to see Rare sharing its expansion plans so soon after launch. Stay tuned, because we'll likely be hearing more about these content updates soon.