SDHC Flash Memory Performance on Canon EOS 1D Mark IV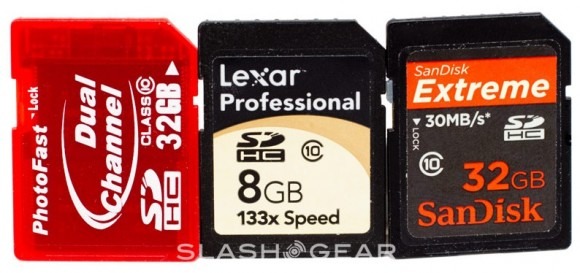 Digital SLR cameras generally save their images to one of two different types of memory card: the majority support CompactFlash (CF), while others such as Nikon's D3000 and the Canon Rebel XS write data onto Secure Digital (SD) memory cards. The latter are inexpensive and favorable for their smaller form factor and better physical contact surface instead of fragile pins. Some DSLRs, however, have dual card slots, such as the Canon Digital EOS 1D Mark II N or the Nikon D300s. Last time around, we reviewed number of UDMA-6 high performance CompactFlash cards on the world's fastest DSLR, the Canon EOS 1D Mark IV, and we promised to put some Class-10 SDHCs through the same tests. That day has come, so read on to find out how Class 10 SDHCs stack against UDMA-rated CF on the Mark IV.
Introduced about a decade ago, the multi-media card (MMC) based SD card has evolved from Standard 1.1 (SD), 2.0 (SDHC) to 3.0 (SDXC) slowly but surely, with capacity and speed improving from 2GB with a minimum sustained read/write speed of 2.2 MB/s to a whooping 2TB of storage space at a maximum transfer speed of 104 MB/s. While we have not seen such cards on the market with that capability, Version 4.0 is already in development and intends to reveal the full potential of SDXC, tripling data throughput up to 300MB/s.
So far, devices supporting the standard are limited and only one DSLR is known to support it, the Canon EOS Rebel T2i. Though SanDisk has recently shipped a slower-speed Ultra II SDXC 64GB, the speed is fairly basic at 15MB/s. However, Toshiba showcased its first SDXC memory card at CES 2010 earlier this year with read and write speeds of up to 60MB/s and 35MB/s respectively. With video recording on DSLRs becoming increasingly popular – and not requiring much faster – write-speeds – SDXC is an interesting prospect both in terms of capacity and ability to boost performance when needed.
If you have prior experience with SDHC, you've probably guessed that backward compatibility for the SD format can be a hassle. Unlike CompactFlash, where cards supporting improved standards are often backward compatible, SD can be more reluctant to play along. Your host devices must support the newer standard, and it's often been our experience that mismatching such standards could cause permanent damage to the storage card.
SDHC read and write performances
For this review, we repeated the same tests previously performed on the CompactFlash cards to record time consumed to write data onto the same camera and computer – Canon's EOS 1D Mark IV and a Mac Pro with a 1TB Western Digital Black Caviar HDD – with six Class-10 SDHC candidates from SanDisk, PhotoFast and Lexar Media.
The SDHC reader used to calculate read speed was the SanDisk ImageMate All-In-One media reader with an advertised maximum speed of 30 MB/s read and 27 MB/s write respectively.
Lexar Professional 133x 8GB SDHC, Class 10, minimum sustain write speed of 20MB/s, $60
PhotoFast 4GB SLC SDHC, Class 10, minimum sustain write speed of 22MB/s, $69**
PhotoFast 32GB MLC SDHC, Class 10, minimum sustain write speed of 18MB/s, $179
SanDisk Extreme 8GB SDHC, Class 10, maximum write speed of 30MB/s, $50
SanDisk Extreme 16GB SDHC, Class 10, maximum write speed of 30MB/s, $99
SanDisk Extreme 32GB SDHC, Class 10, maximum write speed of 30MB/s, $190
Pricing based on Amazon online.**Manufacturer pricing.
From our last test, we've seen that top-tier CompactFlash cards could reach 58MB/s on the Mark IV; disappointingly, though, the camera performed around 3 times slower with the SDHC cards. Results are fairly consistently among the cards, data generally being written at 20MB/s with the exception of the 32GB PhotoFast, which trailed around 5MB/s behind the pack.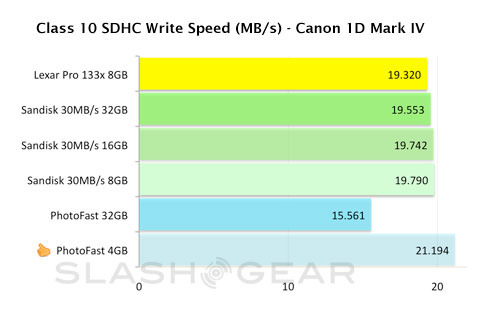 Oddly, while read benchmarks are normally significantly faster than write rates, the SDHCs on test performed just slightly faster than their write speeds. Again, no significant performance differences were observed among the cards.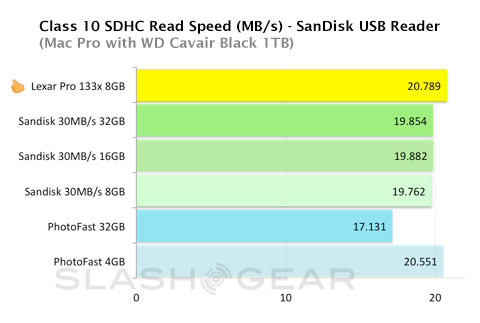 As we found in our last review a UDMA card can help in clearing out the DSLR's frame buffer, managing up to 30-31 frames before hitting the wall. Take the 32GB version of SanDisk's Extreme Pro CF and Extreme SDHC 30MB/s for comparison. The former held 31 frames and took 10.33 seconds to clear; the latter only managed 27 frames but took as much as 25.17 seconds to clear. To put the numbers into perspective, it extends buffer depth by adding four frames more in continuous burst mode and writes 2.5x faster to clear the queues onto the card and be ready for the next burst.
In addition, if you're accustomed to formatting your memory card before you start shooting – as you should, allowing your camera to initialize the file system and help prevent write errors – you would have to wait longer with the SDHC cards. The Mark IV camera formatted the SanDisk Extreme Pro CompactFlash in 1.4 seconds but took up to 5.1 seconds on the Extreme SDHC card.
If your priority is camera performance, taking uninterrupted still images of action sequences, you would want to stick with UDMA enabled CompactFlash, preferably a mode 6 card. Our tests show that, right now, DSLRs and card reader compliant with the UDMA standard write and read data far better than with SDHC. Having fast media storage allows for quicker image access, both for capture as well as when formatting. However, with HD video recording increasingly a standard feature for today's DSLRs, video cinematographers would probably prefer the largest media available, such the upcoming SDXC cards with an outrageous 2TB on offer. Take the Mark IV video recording rate for example: at 5.5MB/s Full HD recording, it would fill a 64GB card in 192 minutes. That's fine for short interviews, but you'd probably need to pack a few cards to record, say, a short-feature film. Still, for now at least, CompactFlash is ahead of the memory card competition in term of raw performance.