Toshiba 64GB SDXC memory card announced: lands Spring 2010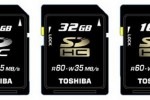 Toshiba have announced the world's first 64GB SDXC memory card, capable of data transfer speeds of up to 35MB per second writes and up to 60MB per second reads.  Scheduled to go into mass production in Spring 2010, the 64GB SDXC is aimed at high-resolution digital cameras and HD camcorders.
The new card will also be accompanied by two new SDHC memory cards, offering 16GB and 32GB capacity, boasting the same transfer speeds and reaching the market at the same time.  No word on pricing as yet. 
Press Release:
Toshiba to Launch World's First 64GB SDXC Card

TOKYO and IRVINE, Calif., Aug. 3 /PRNewswire/ — Toshiba Corporation, a leading innovator in NAND flash memory technologies and solutions, and Toshiba America Electronic Components, Inc. (TAEC), a North American subsidiary, today announced the launch of the world's first 64GB(1) SDXC Memory Card(2) capable of operating at the world's fastest data transfer rate(3) for reading and writing to a flash memory card. The new card is compliant with the new SD Memory Standard, Ver. 3.00, UHS104. Toshiba also extended its industry leadership in memory card solutions by unveiling 32GB and 16GB SDHC Memory Cards compliant with the world's fastest data transfer rate. Samples of the new SDXC Memory Cards will be available this November, and samples of the new SDHC Memory Cards will be available in December.

The new SDXC and SDHC Memory Cards are the world's first memory cards compliant with the SD Memory Card Standard Version 3.00, UHS104, which brings a new level of ultra-fast read and write speeds to NAND flash based memory cards: a maximum write speed of 35MB(4) per second, and a read speed of 60MB per second. The combination of large storage capacities and increased data transfer rates will meet the needs of a wide range of consumer electronics applications such as digital still cameras and digital camcorders that require high bandwidth data communication. For example, digital SLR cameras will be able to shoot longer continuous bursts in the highest quality RAW format. Similarly, with these cards, it will be possible to download a 2.4GB video in only 70 seconds.

The SDXC card is the next-generation standard defined by the SD Association in January 2009. The new standard applies to cards with capacities over 32GB and up to 2TB, compared to the SDHC standard, which applies to cards with capacities over 2GB and up to 32GB.

The high level specifications and wide range of memory cards announced by Toshiba will further open the way for developers to bring applications to future generations of consumer products. By further enhancing its SD Memory Card lineups with larger capacity and a higher data transfer rate, Toshiba will continue to meet market demand and to lead the NAND flash memory market.

Key Features

(1) SDXC Memory Card realizes the 64GB capacity, the largest capacity yet available in the market.

(2) Supports UHS104, a new ultra high speed interface in the new SD Memory Card Standard Ver. 3.00, which provides 104MB per second bus speed on the SD interface, and realizes maximum write speed of 35MB per sec., with a read speed of 60MB per sec.

(3) UHS104 provides the conventional SD interfaces: 3.3V DS (25MHz)/ HS (50MHz) and new SDHC Memory Cards with UHS104 are interoperable with existing SDHC host devices.

(4) Integrates highly secure CPRM copy protection technology.