High Performance CompactFlash Benchmarks on Canon 1D Mark IV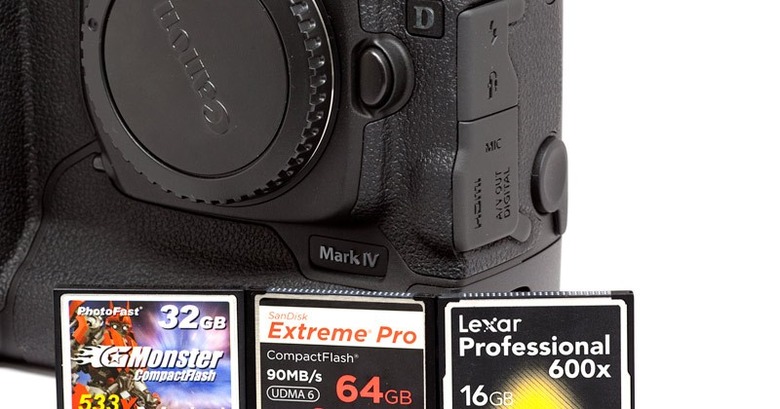 Being successful in digital photography isn't just about which DSLR you spend your money on: it's the memory card you put inside it, too. Over the past few weeks, we've been testing the latest high-capacity UDMA 6 capable CompactFlash cards in up to 64GB sizes from SanDisk, PhotoFast and Lexar, intended for the most demanding of professional photographers. We didn't stop at spec-sheet theory, either; to get the most out of these high-speed cards, we put them through their paces with the Canon EOS 1D Mark IV and top-spec computers to gather the real world performance figures, including an unprecedented in-camera write speed pushing the limit to 58MB/s with the Mark IV. Read on to find out which card tops the chart, and how the newcomer PhotoFast G-Monster holds up against the market leaders.SanDisk Extreme Pro CompactFlash Cards
Among the contestants, SanDisk is perhaps the most trusted brand in the hands of working professional photographers. With the Extreme Pro, the manufacturer raises the bar even further thanks to a new Power Core controller and Enhanced Super-Parallel Processing architecture to boost performance, level memory block data distribution and improve error correction by four times over the previous generation. The circuit board design is also simplified with fewer components to reduce failure rate.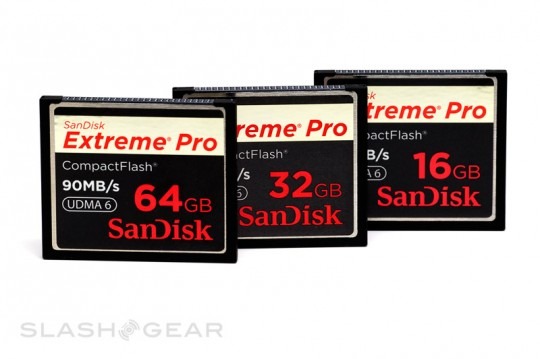 Internally, the Extreme Pro is coated with RTV silicone for added protection against moisture and humidity. In short, you're getting a professional-grade CompactFlash resilient to wear and tear that's capable of 90MB/s read and write speeds.
To reach that speed, though, the corresponding devices must support UDMA Mode 6 such as SanDisk's own Extreme Pro ExpressCard adapter to transfer the images or videos from the card to your computer. Fear not if your devices aren't capable of the standard; the Extreme Pro logic controller is backward-compatible in slower modes.
The SanDisk Extreme Pro comes in three capacities, 16GB, 32GB and the 64GB with MSRP ranging from $335 to $895. All models are backed by a limited lifetime warranty.
Lexar Professional 600x CompactFlash Cards
Next to SanDisk, Lexar Media is another renowned NAND memory brand and a well-respected CompactFlash supplier for professional users. An update from the 300x series, the newest 600x line-up has improved the transfer rate by up to 50% and 30% in the Canon 7D and 5D Mark II respectively. "The controllers in Lexar 600x CF cards are developed to optimize the data transfer speeds in our cards and provide the best performance to photographers" Lexar told us, and they reckon they have the patent portfolio to prove it.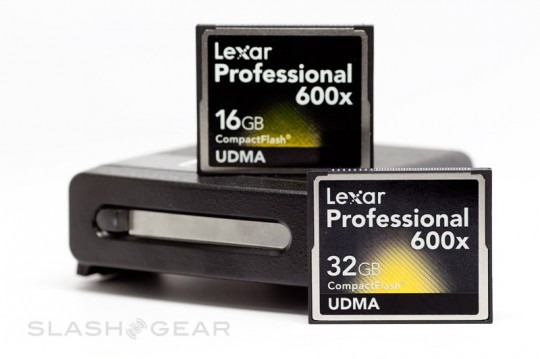 Lexar provided us with two of their newest 600x professional series CF cards for this review, including the recently announced 32GB version, which is a hard item to find in the market. The 600x family is UDMA 6 compliant and offers up to a 90MB/s transfer rate and guaranteed minimum sustained write speed at 80MB/s. As for larger capacities, Lexar told us they would bring 600x 64GB goodness to the market when there is a demand and improvement in device compatibility. Keep in mind that older cameras have size limits in terms of supporting large capacity storage cards.
As for product reliability and warranties, the company is confident with its designs, which tested extensively in the Lexar Reliability Lab to reassure compatibility, performance and durability. Also, the professional cards are backed with a limited lifetime warranty and come with Image Rescue 4 software for both Mac and Windows users. Finally, Lexar provide dedicated technical support for all Lexar professional memory card customers. The 16GB and 32GB have an MSRP of $300 and $500 respectively.
PhotoFast G-Monster series CompactFlash cards
Last but not least is a relatively new product to the US market from a Taiwanese solid state memory maker. PhotoFast may not stand out in the big pool of CompactFlash makers but SSD enthusiasts should have heard of their record setting 1,000MB/s throughput G-Monster PROMISE using the PCI-E standard. Yes, both the SSD and CompactFlash G-Monster not only share the same product name but are also manufactured at the same Taipei facility.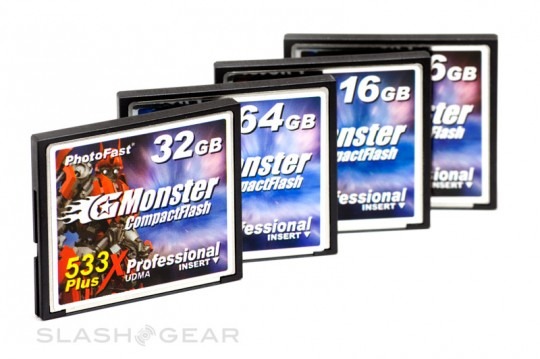 The manufacturer assured us that the G-Monster line-up is built in-house entirely, rather than being a rebrand from other firms. PhotoFast products are not widely available in the US, though, and are currently only sold though one online reseller. You would probably find the same vendor offering the same product at eBay and Amazon.
We also wanted to put another high performance product in the mix, but with price points more affordable to a wider range of consumers. So, we contacted DV Nation and they found us four G-Monster CF cards, ranging from 16GB to 64GB for this review. Two are rated 533x or 80MB/s and the others use PhotoFast's Plus technology, which "simulates the write performance of the SLC." We were also told that they would add 64GB cards in the Plus range when their 25nm class NAND is ready, expected to be around the end of 2010.
All PhotoFast cards have a limited lifetime warranty, and the only place you can get them in the US is DV Nation. The reseller told us they will service warranty replacements for the first three years after purchase.
PhotoFast 533x 16GB, 85/75 MB/s, MSRP : $99
PhotoFast 533x 64GB, 90/60 MB/s, MSRP : $299
PhotoFast 533x Plus 16GB, 90/90 MB/s, MSRP : $159
PhotoFast 533x Plus 32GB, 90/80 MB/s, MSRP : $259
CompactFlash Read Speeds
The data transfer rate supplied by manufacturers is based on the time required to copy data from your memory card to your computer, not data in or out of the camera itself. Technically, conducting such a test is challenging as the outcome varies from one computer to another, on the type of card reader used, together with interface controller and hard drive speed.
To benchmark the nine cards, we ran read tests in three different rigs with a total of 4GB RAW image files, and measured the time taken to copy those files to each system. The first test used an Apple Mac Pro with a 1TB Western Digital Black Caviar hard drive and a Lexar FireWire CompactFlash card reader, before repeating the process with a 15-inch MacBook Pro equipped with a 120GB OCZ SSD but with a SanDisk Extreme Pro ExpressCard reader instead. Finally, using the same ExpressCard reader and the 15-inch MBP, we measured again to write data to an external Western Digital Raptor 150 drive though the notebook's FireWire 800 connector.
As you might expect, the results varied across the three tests and nine CompactFlash cards. To our surprise, the SanDisk Pro Extreme lineup achieved more than the advertised rate of 90 MB/s on the unibody MacBook Pro running Snow Leopard 10.6 (with the OZC SSD drive and the company's own ExpressCard reader). However, all three of them posted rather disappointed throughputs on the Mac Pro setup using the Lexar FireWire 800 reader. Looking at the 32GB card as an example, the SanDisk Pro is 29-percent slower than the chart leading Lexar 600x, at 79.29MB/s, and 21-percent slower than the PhotoFast 533x Plus at 71.57 MB/s.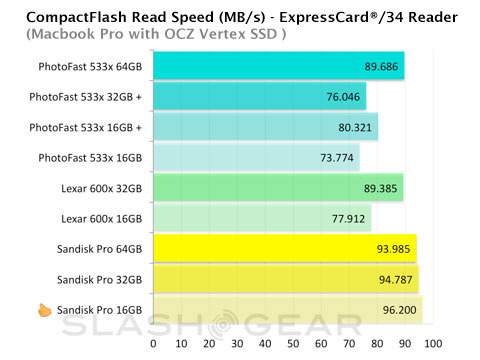 Second place is jointly held by two cards, the regular-speed 533x 64GB PhotoFast and Lexar's 600x 32GB. Data copied at a rate of 90MB/s from the ExpressCard to the SSD. A similar outcome was also observed using the FireWire reader; the pair performed ahead of their competition, but still dropped about 10 MB/s when using the FireWire interface.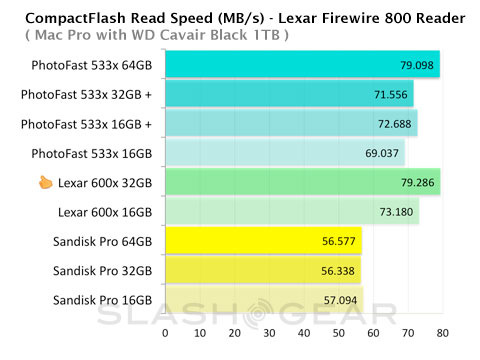 The last chart simulates a user with a typical workflow, transferring images from the cards to an external FireWire drive. Here, we didn't see any major advantage from one card to another. 60MB/s is around the bottleneck for the FireWire interface in that system, but to our surprise the last sample that arrived for this review, the Lexar 600x 32GB, pulled ahead with a clear lead.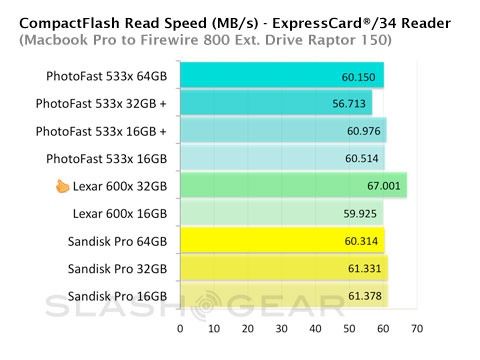 With Full HD motion capture becoming a standard feature in DSLR cameras, a high capacity storage card is indisputably necessary to store high-resolution recording. At the Canon 1D Mark IV's capturing pace of 5.5MB/s, you'd need around 3.5GB of storage space for 10 minutes Full HD recording; question is, do you need really need all that speed, too? If you only use the camera for video captures then the answer is no: only an 8MB/s minimum write speed is required for uninterrupted recording. If the camera is to be used for action photography, however, such as asking the 1D Mark IV to photograph full resolution still images at 10fps, then yes, a high speed CompactFlash card would improve performance by decongesting the integrated buffer for more uninterrupted action.
Let's not forget the tiresome wait involved in transferring photos and videos to your computer. No matter your area of expertise in photography, at the end of the day you want to get your hard work – amounting to gigabytes of content – from the storage card to your computer in the shortest time possible. Having a fast card will require a reader of a similar standard; you will need an UDMA-capable FireWire or ExpressCard reader to get the full bandwidth, since a USB 2.0 reader is not going to cut it. To leverage UDMA 6 technology for maximum workflow performance, Lexar have a Professional ExpressCard for CompactFlash reader that promises up to a blistering 133MB/s. Unfortunately, it wasn't available at time of testing.
Worth noting is that the Lexar FireWire CompactFlash reader has a second-connector on the back of the unit, which allows FireWire devices to daisy-chain. The unit is much bigger than SanDisk's version, so frequent travelers would probably prefer the latter. We also had some concerns at first as to how the card is inserted. On the SanDisk, it's a clear snap with little or no effort to put a CompactFlash card in the reader; Lexar's unit has a larger opening and an eject button with a blue LED indicator, and you need to push the card in hard to get it in. We weren't sure at first whether it was designed that way, since we know how the pins could easily bend if the card and reader channel aren't correctly aligned. Turns out that's how Lexar intend it and you simply have to push harder than with the SanDisk reader.
CompactFlash In-Camera write speed
For our in-camera write testing, camera settings such as ISO, white-balance and lighting were kept constant. We ran three rounds of tests, each with twenty images taken with these fixed manual settings and using a stopwatch to clock when the camera LED write-indicator turned off.
The Canon EOS-1D Mark IV we used to measure real-world performance supports UDMA mode 6, which permits sustained write performance at high levels for continued burst photography, and it didn't let us down. While read speeds varied between 96.2MB/s to 73.8MB/s in the MacBook Pro SSD system, write performance is much slower in a DSLR. That's to be expected, but still, the average write throughput of 58.47MB/s marked the highest write speed achieved on a DSLR.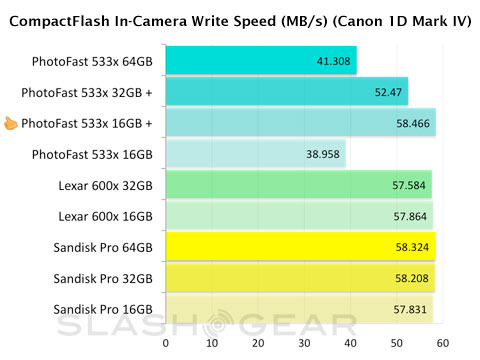 Both the Lexar 600x and SanDisk Extreme Pro series delivered fast writes, but the PhotoFast 16GB 533x plus stood out as a hair faster than the rest. However, the company's larger capacity 533x Plus card couldn't sustain the same level of performance compared to Lexar and SanDisk. The Plus version of the 32GB CompactFlash from PhotoFast dropped roughly 6MB/s weighed against its 16GB sibling.
As for SanDisk, the Extreme Pro trio posted the most consistent throughputs. In fact, the write transfer rate actually increased with capacity, something we don't usually see. In our experience with flash media, the smaller CompactFlash usually perform faster in the group of similar class cards. The same level of consistency was also observed in various read tests.
The 64GB SanDisk Extreme Pro has certainly exceeded our expectations. If money were no object, we would want the 64GB in our Mark IV: no more portable multimedia storage, no more card holder and no more missing the shot while swapping out cards. With an estimated street price of $600, however, it's way out of the price range even for many working professionals.
If you are on a budget, then, give the PhotoFast cards a shot. Their Plus technology 16GB 533x is essentially 600x spec, and in fact a lead candidate in this category but half the cost. Meanwhile the regular-speed 64GB – while 30 percent slower than its SanDisk counterpart in write performance – proves to be excellent when it comes to read rates.
For cards in the 32GB storage bracket, Lexar is our pick for best-in-class. It performed better than its smaller sibling but, most importantly, topped our two reading tests and was just a hair slower in in-camera write tests against the others.
Evidently, it's difficult to declare a clear winner out of this review, as the top-tier CompactFlash cards dialed in no more than one megabyte faster than the next for in-camera performance, while the card-to-computer performance is more often constrained by reader, interface and overall system than the media itself. Our advice would be to take a close look on the charts, select a suitable card of a capacity you want, and then pick a reader that's appropriate to your system and budget.
Either way, if you're coming from the last generation of CompactFlash cards, you'll notice a significant improvement in formatting, "chimping" and buffer-clearing in your camera.
On a final note of durability, we loaded those cards one by one on the Mark IV, both in the office and outdoor shooting Bird In Flight (BIF) action sequences, thousand of frames and counting, and never once did the cards give us any trouble. It was a pleasure to be able to capture BIF sequences of 30 frames with no buffer stuttering and the write indicator clear in a blink! We included a few waterfowl in action shots taken with the cards in the gallery below.
About the Canon 1D Mark IV Buffer
The shooting buffer on the camera is rated at 121 JPEG or 28 RAW images in continuous burst mode. However, the actual number of frames that are stored in the buffer is dependent on the ISO setting. Generally, the higher the value, the larger the image captured and thus it fills the pipeline much quicker. On a generation old (30MB/s) 16GB CompactFlash, the SanDisk Extreme III, the camera managed 26 frames before hitting the buffer, while the newest Extreme Pro series cards (90MB/s) boosted that up to 30-31 frames at an ISO setting of 400. Four to five frames gain may not sound much considering the unit cost, but these monster-speed flash media allow the camera to write quicker and so offload the queue onto the card faster. In real-world applications such as action sports with extended plays, the sequence of events is often unpredictable and you would want the buffer to clear up more rapidly, pushing a fast camera even faster so as not to miss a single shot.
Note
We also managed to score a few high performance and high capacity SDHC samples for our next Mark IV benchmark. If you've been considering picking on up compliment a dual-card Canon 1D series rig, come back next week when we'll have full benchmarks and more!
Update : SDHC review here