Satechi USB Type-C hub has (almost) all the ports you need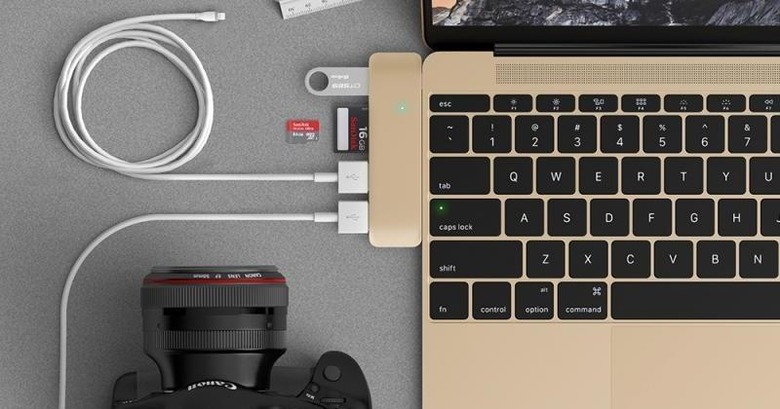 We may receive a commission on purchases made from links.
The finalization of USB Type-C was welcomed by many. Hooray for reversible USB plugs! Their adoption by big tech giants, particularly by Apple and later by Google, was similarly praised. There is, however, one wrinkle in that otherwise lofty plan. Accessory makers aren't able to adapt fast enough, still stuck with USB Type A and micro USBs because of their more widespread use. Luckily, adapters are here to rescue the day. Like Satechi's new Type-C USB 3.0 3-in-1 Combo Hub that lets you connect almost all your peripherals in style.
One of the new MacBook's biggest criticisms is that, while it does adopt the new USB Type-C standard, it has only one of them, to be used for both charging and also for data transfer. Apple does haver its own adapter to make those two actions simultaneously possible, but the number of connections it allows is severely limited.
Enter Satechi's new hub. It boasts of not one, not even two, but three full-sized USB 3.0 ports for all your data transfer needs. It also has one microSD card slot and one full-sized SD card slot to add to the device's storage span without needing to hook up an external drive. The hub is also stylish and compact, allowing users to fit it inside bags, laptop cases, or even pockets if needed.
The hub does have some limitations. The USB ports can be used to charge an iPhone but not yet an iPad or other tablets. External hard drives also need to be connected to an external power source.
Satechi says that the SD and microSD card slots can't be used simultaneously either. There's no ethernet, either, and unlike Apple's hub, this doesn't have a video output port.
Although Satechi's USB Type-C hub can be used with any device supporting the new standard, like Google's new Chromebook Pixel or even the Nokia N1 tablet, it was clearly designed with the new MacBook in mind. It comes in color options of gunmetal, silver, and gold to match that design. The hub goes on sale today for $34.99 and can be bought from Amazon or directly from Satechi.