Sanyo Xacti 2009 camcorder range unveiled: 1080p 60fps HDX-2000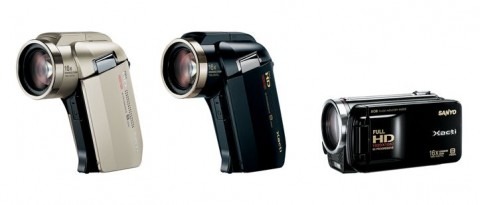 Sanyo have taken the wraps off of their 2009 line-up of Xacti camcorders, including an update to the company's popular pistol-grip full-HD HDX range.  The new Sanyo Xacti HDX-2000, shown here in gold and black, is capable of full HD 1080p recording at 60fps together with 8-megapixel stills (interpolated up to 12-megapixel) that can be taken simultaneously.  Sanyo have also introduced a traditional camcorder form-factor version, the Xacti DMX-FH11, which has an integrated 8GB of flash memory.  Both models have microSD slots.
Sanyo also announced a new range of waterpoof camcorders, the Xacti DMX-CA9 and Xacti DMX-WH1, which record at standard definition and can be submerged to 1.5m and 3m respectively.  The WH1 has a 30x optical zoom, and both have anti-shake and face-detection.
Finally, the Xacti DMX-CG10 is a compact HD camcorder that can take 10-megapixel stills and yet weighs only 171g.  It, too, has anti-shake and face-detection, together with a 3-inch LCD for preview and review.  It will go on sale on February 20th, 2009, while the waterproof DMX-WH1 and DMX-CA9 will go on sale March 19th and 13th respectively. As for the DMX-2000, it will go on sale on February 6th, with the DMX-FH11 following on April 24th. No prices have been revealed as yet.