Sanyo PDG-DHT100L DLP projector: 1080p, 6500 lumens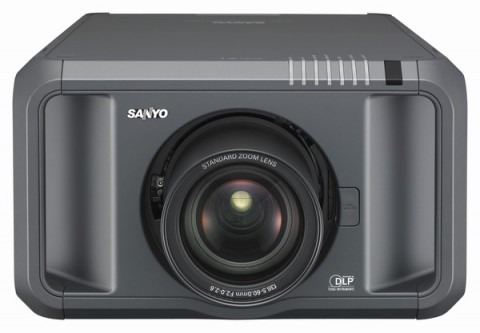 Sanyo have announced the PDG-DHT100L, a pro-class native-1080p DLP projector capable of 7,500:1 contrast and 6,500 lumens brightness thanks to dual 330W HP bulbs and a twin color wheel system.  Suited to 24/7 installs, the DHT100L comes with user-interchangeable color wheels that allow the option of high brightness or rich color reproduction.
Connections include HDMI, DVI-D, VGA, BNC x5 (RGBHV and VIDEO/Y-Pb/Cb-Pr/Cr), S-Video, USB and ethernet.  There's also a VGA monitor-out port, and a serial port for systems integration.  Sanyo's optional Wireless HD system slots into the expansion port.  This can funnel 1080i or 720p HD video from 30m away.
The Sanyo PDG-DHT100L will begin shipping this month, priced at $21,995 for the body; the lens is sold separately.  As for the optical HD data Wireless Transmitter, that will go for $1,895, while the HD data Wireless Receiver Board (without which the transmitter isn't much use) is $895.
Press Release:
Sanyo introduces high brightness, true HD DLP projector with "Picture-By-Picture" capability

CHATSWORTH, CA. — March 10, 2009 — SANYO, one of the world's largest manufacturers of LCD and DLP projectors adds the PDG-DHT100L, a professional class 1080p native resolution single chip DLP® projector, to their broad line-up of projectors. Key features include a dual lamp system that allows for increased light output and user changeable twin color wheel system that increases color reproduction and light output efficiency and SANYO's Active Maintenance Filter for extended maintenance cycles. The projector is also compatible with SANYO's exclusive Uncompressed HD Data Wireless Transmission System, which is available as an option.

The PDG-DHT100L is the brightest of its class with an incredible 6,500 lumens, and is compatible with a Full HD (1920 X 1080) signal. Contributing to the increased light output efficiency, the PDG-DHT100L is outfitted with two 330-watt HP bulbs and a twin color wheel system. The high brightness projector answers a growing need for projectors to perform in brighter environments, particularly for theaters, auditoriums, or large lecture halls.

"The two-lamp PDG-DHT100L is perfect for brightly lit rooms wanting the best in graphics, video or both together," says Mark Holt, the Vice President and General Manager for SANYO's Presentation Technologies Division. "Moreover, it's practically maintenance free with our latest optical engine, 24/7 lamp interval function and exclusive AMF system that controls dust automatically. Plus the picture-by-picture and picture-in-picture capability makes this the perfect projector for any size venue."

The PDG-DHT100L has a twin color wheel system that offers increased color reproduction and light output efficiency, and comes with two different user-changeable color wheels that are optimized for either high brightness or rich color reproduction. The projector ships with the color wheel that is optimized for higher brightness. A second color wheel that is optimized for rich color reproduction is included in the package. Either of these color wheels can be easily changed for intended applications by users. Also, a built-in Color Matching function corrects variations in color reproduction when using more than one projector for edge blending applications.

The projector is also equipped with a new, dust-resistant sealed optical engine and the Industry's longest lasting*** 25,000 hour-use Active Maintenance Filter. The sealed optical engine prevents dust build-up, while maintaining optimal brightness and contrast. These problems have traditionally been difficult to overcome, causing reductions in projection quality. The AMF system automatically detects airflow and advances clean filter material as needed. The integration of the new optical engine and the AMF system prevents dust from entering the lamp area and allows enough airflow to keep the projector cool at all times. The increased dust resistance and longer lasting filters promote extended durability and reliability.

SANYO's 24/7 Lamp Interval Function

The lamp interval function can be used to automatically switch the lamp that is turned on to an alternate lamp after a certain period of time in order to reduce the initial lamp deterioration. A user can select from [Off/Auto/200h/500h/1000h/2000h] or a 24-hour interval time, and rotate each lamp for extended 24/7 usage.

The PDG-DHT100L offers an edge blending function that allows for boundary-less images with multi-image display possibilities. It is also capable of projecting two images simultaneously, either using its built-in picture-in-picture mode or picture-by-picture mode.

The projector is compatible with SANYO's Uncompressed HD Data Wireless Transmission System, which can project high definition (1080i or 720p) images over long distances without wires. This optional upgrade allows pure uncompressed data transmissions without sync delays between video and sound. The wireless system allows video transmissions from a distance as much as 30 meters** approx. 100 feet away from the input source. This is particularly useful for large event halls and other large rooms or theaters, as it eliminates the need to feed cables and run wires from sources to projectors.

The advanced lens function with power vertical/horizontal lens shift plus a 360-degree vertical tilt, allows the projector to be positioned almost anywhere, including the ceiling or the floor.

Other Specifications:

• Native resolution: True HD 1920 x 1080 (UXGA dot resizing possible)

• Contrast Ratio: 7,500:1

• Brightness (typical): 6,500 ANSI lumens

• Screen Size: Minimum 50", maximum 600"

• Uniformity: 90%

• Video inputs: HDMI, DVI-D (w/HDCP), Mini D-sub 15, BNC x5 (RGBHV, VIDEO/Y-Pb/Cb-Pr/Cr), S-video

• Monitor out: D-Sub 15

• Serial Port: D-sub 9 (in & out)

• Communications: USB, RJ45

• Expansion slot allows for a variety of optional upgrades including wireless HD

The PDG-DHT100L will ship in March '09 and sell for $21,995 (lens sold separately). The optical HD data Wireless Transmitter (POA-HDTM01) is $1,895.00, with the $895.00 HD data Wireless Receiver Board (POA-MD26HDWL).

** Actual Distance is dependent of a variety of environmental conditions

***As of the time of initial sales on March 2009 (Based on JIS D-0207 accelerated testing environment conditions)

About the SANYO Uncompressed HD Data Wireless Transmission System

This system is based on advanced wireless transmission technology that achieves both high definition/resolution video quality and long-distance transmission. There are primarily two types of wireless transmission video signals. First is the type that compresses video as it comes out from the original signal and then transfers the data. The second type, which is the system SANYO has adopted, leaves the video uncompressed and transmits the untouched data. There is no signal degradation with uncompressed transmissions. Also, there is no inherent delay in the uncompressed format as there was no intermediary step (i.e. compression) needed to prepare the video for wireless transmission.

Traditionally, as the amount of data to be transmitted becomes larger, the distance that the data can be sent wirelessly becomes shorter. SANYO's Uncompressed HD Data Wireless Transmission System was able to overcome the traditional weakness of distance by using signals in the 5GHz bandwidth, and by adding multiple antennas to enable the transmission of a large amount of data at one time. Products using this system achieve cleaner images and eliminate unsightly delays, thus making projection of high definition and high resolution images possible at the incredible distance of as much as 100' between the source of transmission and the receiver.