Sanyo M1 music phone launches on Sprint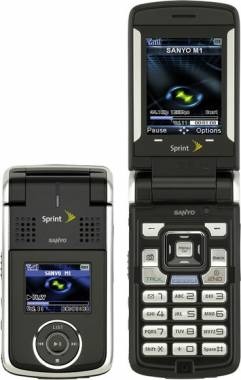 If you're a Sprint user and you fancy a music-phone, from today they'll be happy to sell you the Sanyo M1.  Complete with 1gb of on-board memory which you can either fill by hooking the M1 up to your computer via USB 2.0, or by downloading tracks over Sprint's network, you can dance to your heart's content for up to 18 hours, after which your battery will be dead and you'll have to do something else instead.
I suppose it's vaguely attractive in a sort of angular/chunky way.  You'll also have access to Sprint TV which means 50+ channels of content (20 of which are live), with sound coming through the external stereo speakers.  The M1 also has a 2-megapixel camera, Bluetooth 2.0 and speakerphone.  Full specs (and price) after the cut.
Full Specifications:
ENTERTAINMENT
·             Sprint Music StoreSM provides over-the-air downloads of high-quality full songs (MP3 and AAC/AAC+ digital files)
·             Sprint TVSM offers more than 50 channels including live television
·             1 GB internal memory capacity (Stores up to 16 hours of music*, or a combination of music, photos, videos, and voice recording)
·             Advanced power management enables up to 18 hours of music playing
·             2.0 MP camera and camcorder with auto focus and flash
·             Background music mode allows music play while checking e-mail, surfing the web or sending text messages
·             On Demand news, sports, weather and entertainment content
·             Sprint PCS Picture MailSM
·             Enhanced gaming experience with 3D Graphics
·             Pre-loaded with Sprint's exclusive NFL Mobile application
·             Stream music to your phone with Music Choice, Sirius Music and others
·             External navigation control allows easy access to music features
·             External dual 15mm stereo speakers for stereo music playback and speakerphone
·             Themes enabled for personalizing menus, favorite applications and standby screens
·             Downloadable ringers, games, and applications
PRODUCTIVITY
·             Sprint PCS Ready Link for quick "walkie-talkie-style" communication
·             "Limit Use" function restricts incoming and outgoing direct dial calls and limits access to services including Sprint PCS Vision and Sprint PCS Ready Link
·             Bluetooth® enabled
·             SMS Text and Voice Messaging
·             GPS enabled
·             Wireless Backup enabled
·             Advanced voice-activated dialing
·             Phone as modem capable
·             Internal phone book allows you to assign up to 500 entries
SPECIFICATIONS
·             Dimensions: 3.6" x 1.9" x .9" Weight: 3.8 ounces.
·             Main Display: 1.2" x 1.5" TFT (240 x 320 pixels)
·             External Display: 1.0" x 0.8" TFT (128 x 96 pixels)
·             Standard rechargeable Lithium (LiIon) battery provides up to 3.8 hours continuous talk time.
The M1 can be yours for the measly sum of $199.99 after a $150 instant rebate, just as long as you sign your cellular life away for two of our Earth years.
M1 product page [Sanyo]