Sanyo dual-Lamp PLC-XTC50L projector gets US release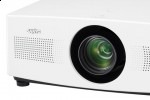 The ultra bright Sanyo dual-lamp 3LCD PLC-XTC50L projector has previously made its appearance in Japan; today, the company is turning it loose for US release, announces an official introduction and MSRP for the smart filtering and programmable lamp selection based beamer.
The uniquely Lamp Selection System, according to Sanyo, is industry's first smart lamp switching function that offers an "Alternate Mode" or "Delay Mode" to auto-switch lamps usage based on preferences and settings. The former alternates between the two lamps, while the latter use up one lamp first, then switch to the other after.
On top of the advance lamp feature, it's also equipped with an exclusive Active Maintenance Filter system, which simplifies user maintenance using ten filters per cartridge rotating design. The project can auto detect air blocks or clogs then switch a clean filter to replace the congested ones.
As you have probably have learned, the benefit of an LCD project is its ability to allow Optical Lens shifts at both vertical and horizontal redirection. In the case of the Sanyo, its Lenshift function is rated at 50 vertical/15 horizontal percent adjustment. The Sanyo PLC-XTC will be available in January 2009 for an a suggested retail of $7,495.
PLC-XTC50LSpecifications


Brightness: 5000 ANSI Lumens 


Lamp type: 330W NSHA lamps (x2)


Screen size: 30 to 300 inches


Video Inputs: DVI-D w/HDCP, D-Sub15pin, BNC 5-pin type (Y, Pb, Pr or RGB),

Composite (RCA) and S-Video Mini DIN 9-pin

Video output: D-Sub15pin, BNC 3-type


Audio Inputs: Left and Right Audio (RCA x 2), 3.5mm jack (and output)


Audio Output: RCA x1 (for computer or video)


Other connections: USB (B series), wired remote control, PJ Net Organizer Connector


Dimensions: 17.75" W x 6.9" H x 21.65" D.