SanDisk's iXpand Base Charges Your iPhone As It Backs Up Your Photos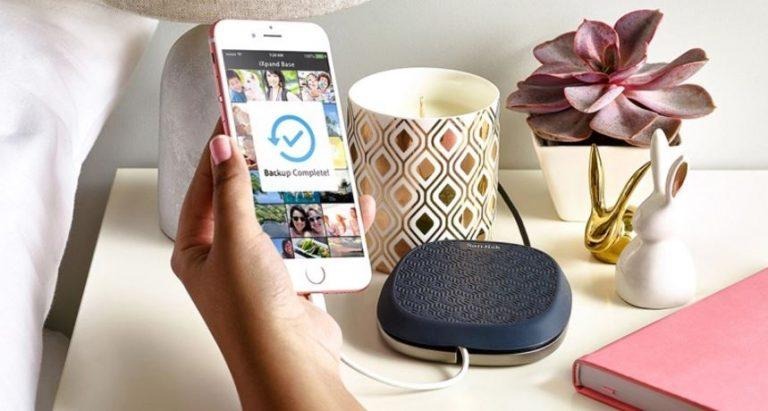 Today's a pretty big day for SanDisk that started with the reveal of its impressive 400GB microSD card. The interesting reveals keep on coming with the announcement of the new iXpand Base. This tool wants to make it easy for you to remember to back up your iPhone by doubling as a charging station that sits atop your desk.
The reality is that many people probably don't back up their phones as much as they should, and that can sometimes result in losing photos or videos without any realistic way of getting them back. With the iPhone's only "official" backup options being limited to manually backing up to iTunes or (in a lot of cases) paying for extra iCloud storage, it probably goes without saying that a lot of people could use a device like this.
The iXpand Base is a hockey puck-looking device that sits on your desk, almost like a wireless charging pad. It has as much as 256GB of on board storage and works in tandem with SanDisk's own iXpand Base app. All you need to do is connect your phone to the iXpand Base via Lightning cable and initiate backup through the app.
To give you more incentive to actually backup your data frequently, the iXpand Base also supplies 15W of power to charge you phone as its backing up. So, not only will you disconnect from the iXpand Base with more juice than you had when you first connected it, but your photos, videos, and contacts will be safely stored. You can also restore content to a new or replacement iPhone by connecting it to the iXpand base and tapping the "restore" button that appears in the app.
The iXpand Base is available in a few different storage flavors. $49.99 will get you a base model with 32GB of storage, though 64GB, 128GB, and 256GB varieties are also available for $99.99, $129.99, and $199.99 respectively. If this sounds like your kind of backup solution, you can find it now at SanDisk.com, Amazon, Best Buy, and B&H, but be warned that your phone needs to be running iOS 10 in order for the iXpand Base to work. Be sure to have a look at the our coverage from IFA 2017 for more from the show!