SanDisk's 400GB microSD is surprisingly affordable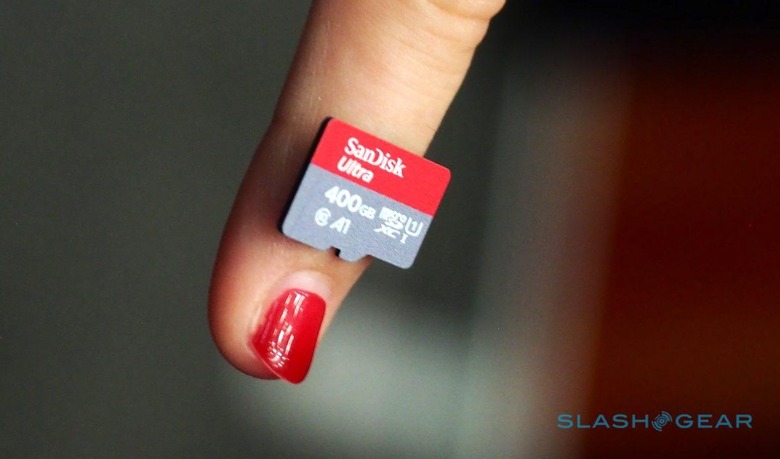 It's probably not normal to drool over a memory card slot, but SanDisk's 400GB microSD may change all that. The first card of its size, the 400GB SanDisk Ultra microSDXC UHS-I has a long name but even more room for storage inside. Indeed, there's enough space for up to 40 hours of Full HD video.
Since all that capacity is for naught if it takes forever to load it up, SanDisk has made sure it's fairly speedy, too. The microSD can manage read speeds of up to 100 MB/s, the company says, or the equivalent of 1,200 photos per minute. Write speeds are, unsurprisingly, slower.
It's also A1 App Performance Class specification complaint. That means that, on devices which can run apps from expandable storage like some Android phones, the difference in performance versus locally installed apps should be minimal.
Meanwhile, there's a new version of SanDisk's Memory Zone app. Updated for Android devices to deal with the 400GB capacity, it allows for easier management of what's saved on the card. It's also able to pull in tagged content from Facebook and Instagram.
Of course, not all devices will be compatible with the new, super-size storage. Most flagships of recent years can handle cards up to 2TB, but that's not universal. Best to check the spec sheet if you're not certain.
SanDisk does have some history with ridiculously large cards and pushing the expandable memory envelope. The company was the first to announce a 200GB microSD back in 2015, though it still took a few months to actually reach retail. Even in the intervening months, there aren't many competitors at that size.
Although onboard storage in devices has been increasing over time, many buyers still expect to be able to swap out their own memory cards when they buy a new phone or tablet. Samsung and LG continue to make it a primary selling point of their Android phones, while Apple remains the most significant hold-out, insisting on internal capacity alone.
SanDisk says the 400GB Ultra microSDXC UHS-I card will go on sale priced at $249.99. While that might sound expensive, if you look at how much device manufacturers often charge to step up through the memory tiers it's actually fairly reasonable.