SanDisk Sansa slotMusic PMP & pre-loaded microSD cards launch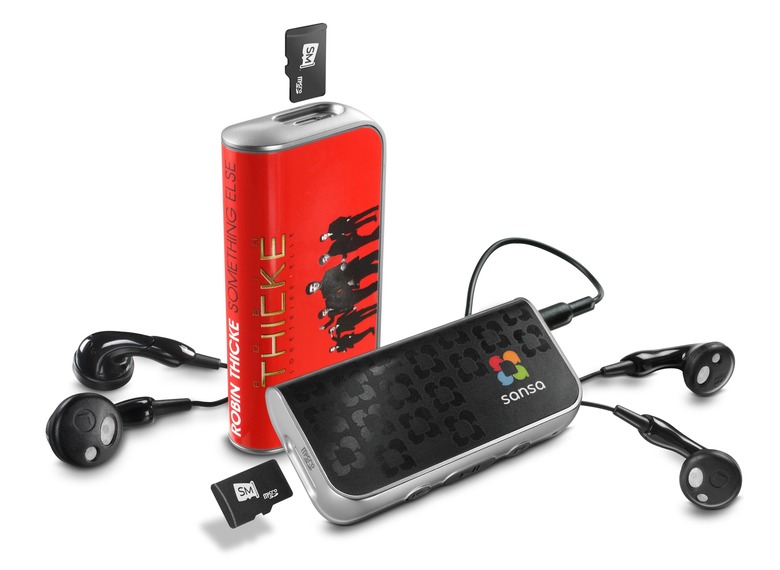 SanDisk have unveiled their latest PMP, intended to work with the company's attempt to control media distribution, slotMusic.  Offering 1GB microSD cards with pre-loaded DRM-free music, each costing $14.99, together with compatibility with your own cards up to 16GB in capacity, the new sanDisk Sansa SlotMusic PMP has no display and only basic controls, but costs a mere $19.99.
Alternatively, pay $34.99 and you get a microSD card album of your choice and a special artist-branded sleeve cover for the PMP.  There are currently a little over forty microSD artists to choose from, including Coldplay, Usher, Leona Lewis and – my personal favorite – ABBA, and each microSD card is supplied with a USB adapter to load your own content.  Since they're in MP3 format you can also play them on mobile phones and other devices.
Tracks are recorded in up to 320kbps quality, and the PMP is compatible with MP3 and WMA formats.  It measures a somewhat surprising 2.75 x 1.4375 x 1.4375 inches, and will be available – along with the slotMusic cards themselves – in the US immediately, followed by Europe and elsewhere in 2009.
Press Release:
SanDisk Introduces the Sansa slotMusic Player–the Easiest Way to Listen to Music on the Go

New Plug & Play, Portable Music Player is Designed Especially for slotMusic(TM) Cards; Popular Artists Have Their Own Personalized MP3 Players

MILPITAS, Calif. –(Business Wire)– Oct 15, 2008 SanDisk Corporation (NASDAQ:SNDK), a leading seller of MP3 players and flash memory cards, today unveiled the Sansa® slotMusic™ Player, the easiest MP3 player for loading and listening to music on the go. The plug & play, portable music player was specially designed for use with the new slotMusic cards available today in the United States. In addition to the Sansa-branded player, SanDisk has created personalized, branded slotMusic players for popular artists such as Robin Thicke and ABBA. slotMusic Players will be available in the coming days at U.S. stores, including Best Buy® and Wal-Mart.

The Sansa slotMusic Player (MSRP $19.99) was made to play slotMusic card albums or a self-loaded microSD™ card full of music. The effortless player doesn't require a PC, Internet or any time spent managing music. Consumers simply choose their slotMusic or music-filled microSD card, pop it into the device and will be enjoying their favorite tunes in seconds.

The unique, artist-branded slotMusic Player is a stylish, all-in-one package, which includes both the slotMusic card and a trendy player bearing their favorite artist's name and image. The branded player comes pre-loaded with an album on a 1GB1 slotMusic card. (Additional content on the card may include liner notes, album art and other one-of-a-kind content personally chosen by the artist.) Artist-branded slotMusic players will retail for a MSRP of $34.99.

Announced last month, slotMusic is a new format of high-fidelity, DRM-free MP3 music on a microSD card, which gives consumers the ability to easily listen to—and quickly swap—their favorite songs among a mobile phone, personal computer, and any MP3 player with a microSD slot. slotMusic cards available this month will feature nearly 40 of the biggest names in music from all four major music labels: EMI Music, SONY BMG MUSIC ENTERTAINMENT, Universal Music Group, and Warner Music Group. Artists on slotMusic cards include Robin Thicke, Katy Perry and Coldplay. (Media note: see associated press release.)

"With no need for computers or cords, the Sansa slotMusic Player gives consumers more time to play, and less time to worry about managing or downloading their music," said Daniel Schreiber, senior vice president and general manager for SanDisk. "SanDisk is all about building products that are easy for consumers to enjoy. Just insert your favorite artist's slotMusic card into the Sansa slotMusic player and press play."

Perfect for those on the go, the small device can easily be tucked in a pocket or purse, with a weight of a little over two ounces and dimensions of 2.75" W x 1.4375" H x 1.4375" D.

SanDisk has also developed a special line of Sansa slotMusic Player accessories, including a Sansa card wallet, an armband, and additional slotMusic player "shells" for customizing a player to one's own tastes.

In addition to slotMusic cards, this convenient MP3 player can play songs from any microSD card with music encoded as MP3 and WMA (DRM-free only) files. The industry leader in flash memory cards, SanDisk is currently selling microSD cards in a range of capacity with up to an astounding 16GB of capacity. 16GB can hold up to 4,000 MP3 songs2.

The Sansa-branded players ship with a customizable black shell, earphones and battery. The new Sansa slotMusic Player, both Sansa-branded (without cards) and artist-branded (including cards), is expected to be available from retailers in Europe and other regions of the world in 2009.

The Sansa slotMusic Player brings yet another dimension to SanDisk's Sansa audio/video product family, which includes the popular Sansa® Fuze™ and video-centric Sansa® View, both of which accept with slotMusic cards. The Sansa line offers consumers unprecedented choice for enjoying their favorite media on the go through affordable, easy to use, fun & fashionable music players.

For more information visit http://www.sansa.com.
Press Release:
slotMusic Cards Now Shipping: More Than 40 Top Artists Available from Nearly Every Genre of Music

Artist' Albums, Including Coldplay, Katy Perry, Leona Lewis, Rihanna and Robin Thicke will be Available on High Quality, DRM-Free MP3 slotMusic(TM) Cards at Best Buy(R) and Wal-Mart

LOS ANGELES & NEW YORK & MILPITAS, Calif. –(Business Wire)– Oct 15, 2008 The world's four largest music companies and SanDisk Corporation (NASDAQ:SNDK), a leading seller of MP3 players and flash memory cards in the United States, today unveiled the full list of artists joining the inaugural slotMusic line-up. Starting this week, music fans can purchase slotMusic cards—microSD™ cards with pre-loaded, high quality, DRM-free MP3 music—featuring new release albums from favorite artists like Coldplay, Katy Perry, Leona Lewis, Rihanna and Robin Thicke and catalog titles from Elvis, Abba and more. Within days of shipping, slotMusic cards will arrive on the shelves of Best Buy and Wal-Mart in the United States, with a manufacturer's suggested retail price of $14.99.

slotMusic makes today's hottest music available on interoperable microSD cards that let fans instantly plug and play albums into their microSD slot-enabled mobile phones, portable media players, computers, and an increasing number of car stereos.

More than just your typical music albums or single downloads, slotMusic cards boast 1GB1 (gigabyte) of capacity to offer artists a compelling new way to express themselves to their fans. In addition to songs, slotMusic cards may hold liner notes, album art, videos and other creative content that an artist may choose.

Grammy™-winning recording artist Robin Thicke, is utilizing the additional space on his card to add exclusive videos, behind the scenes footage and photos, personally chosen by Thicke to share with his fans.

Dozens of popular artists from EMI Music, SONY BMG, Universal Music Group, and Warner Music Group are making their debut on slotMusic cards in time for the holidays, including:

ABBA

Chris Brown

Coldplay

Connie Talbot

Daughtry

Don't Quit Fitness Bundle

Elvis Presley

Five Finger Death Punch

Jimi Hendrix

Jimmy Buffet

Katy Perry

Keane

Kelly Clarkson

Kiss

Leona Lewis

Lynyrd Skynyrd

Metro Station

MIA

Nelly

New Kids On the Block

Ne-Yo

Nickelback

Pussycat Dolls

Rihanna

Rise Against

Robin Thicke

Saving Abel

Shwayze

Solange

Sugarland

Tim McGraw

Toby Keith

Usher

Weezer

Young Jeezy

Consumers can expect additional releases from other artists before the end of the year.

slotMusic has an unparalleled, pre-existing installed base at launch: hundreds of millions of multimedia-phones.

slotMusic cards are packaged with a tiny USB adapter (a $9.99 value) ensuring seamless interoperability with all computers – Windows, Linux and Mac — and enabling music fans to move their music to any music management software program or MP3 music device. The MP3-based music tracks will be played back at up to 320 kilobits per second (kbps), offering a high quality audio experience.

slotMusic cards are expected to be available in Europe in 2009.

SanDisk Corporation (NASDAQ:SNDK), inventor of the ubiquitous microSD format, is leading the technology development behind slotMusic.