SanDisk iXpand Flash Drive made for iPhone and iPad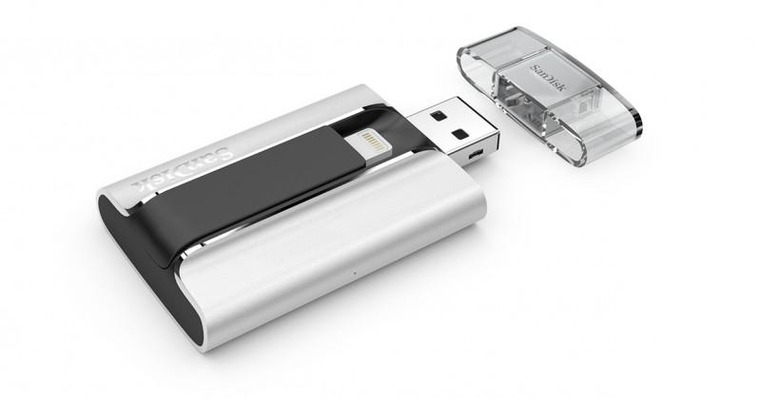 This week the folks at SanDisk have revealed their newest Lightening port-ready flash drive, made specifically for the newest iPhones and iPads on the market today. This device is aimed directly at iPhone and iPad users who have trouble moving photos and video from their smartphone or tablet to their computer. To do this, it works with an iXpand sync app with the ability to instantly transfer photos and video to the drive without hassle. One plug, sync, transfer, and the user is done.
According to SanDisk, "The iXpand Flash Drive is a powerful, yet simple-to-use solution that quickly transfers photos and videos from an iPhone or iPad to a Mac or PC — all without cables, Internet connections, or bandwidth limitations." All you need is the SanDisk iXpand™ Flash Drive instead – the company's first USB flash drive designed for the iPad and iPhone specifically.
So you'll download the iXpand app and tap a few times, allowing it access to your photos and videos. Once you've done this, you'll have only to plug the iXpand Flash Drive in to your device and wait.
It'll instantly start sucking up all your photos and video, copying them, syncing them to the drive itself.
This drive works with iPhone 6, iPhone 6 Plus, iPhone 5s, iPhone 5c, iPhone 5, iPad Air 2, iPad Air, iPad mini 3, iPad mini 2, and iPad mini running iOS 8 or iOS 7. You'll be able to get this device in 16GB, 32GB, and 64GB sizes starting on November 16th.
You'll be able to get the 16GB drive for $59.99 and the 64GB drive for $119.99 wherever fine SanDisk products are sold. The 32GB version, strangely enough, will be sold at Best Buy exclusively for $79.99 USD.