SanDisk blames 'Vista shortfalls' for delays in MLC SSDs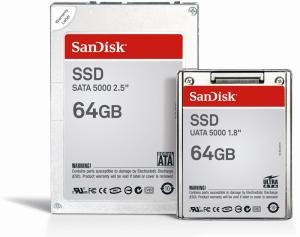 SanDisk has criticised Microsoft's Windows Vista OS as not being "optimized" to take advantage of the speed benefits of solid-state drives.  Speaking during the company's Q2 financial results conference call, SanDisk Chairman and Chief Executive Officer Eli Harari described what he called the "Vista shortfalls" and how developing their SSD drives had been a special challenge.  In fact, Harari blamed Vista for putting SanDisk behind its competitors in the sector.
"Unfortunately, (SSDs) performance in the Vista environment falls short of what the market really needs and that is why we need to develop the next generation, which we'll start sampling end of this year, early next year ... We have very good internal controller technology, as you know ... That said, I'd say that we are now behind because we did not fully understand, frankly, the limitations in the Vista environment" Eli Harari, Chairman and CEO, SanDisk
The crucial development point has been a disk controller capable of handling both the next-gen SSD's multilevel cell (MLC) technology as well as "compensating for Vista shortfalls".  Harari's confession that the company underestimated the development work necessary has once again placed Microsoft at the center of an argument that its flagship OS is too bloated for mobile devices.
SanDisk expects to have large SSDs – measuring 128GB, 160GB and 256GB – with controllers capable of taming Vista's issues by the end of the year or the beginning of 2009.  Harari described current SSDs, in far smaller capacities, as being unaffected by the Vista issue as they were "relatively unsophisticated".