Samsung's TabPro S Price Brings Tablet Wars To iPad Pro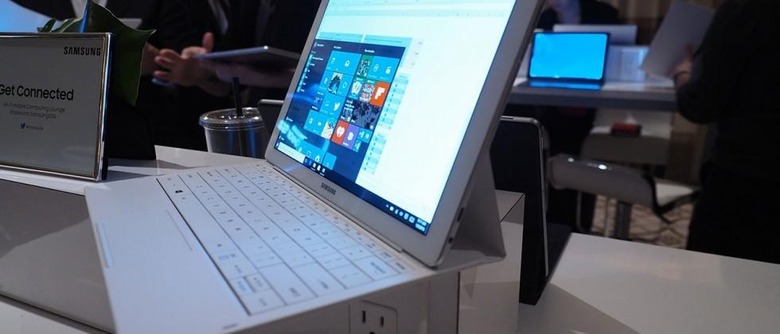 Samsung's TabPro S, the sleek Windows 10 slate which the company hopes will claw would-be iPad Pro buyers away from Apple Stores, will be priced at $900, Samsung has announced today. The 12-inch tablet will go up for sale tomorrow, March 18th, in the US, Samsung says, offering up to 10.5 hours of runtime on a single charge.
That's despite the waifish dimensions. The TabPro S is 693 grams, and comes with a removable keyboard case with a full-sized touchpad, the argument being that it can be both an entertainment device and one for productivity.
With that in mind, inside there's an Intel Core M3 2.2GHz processor with 4GB of memory, along with 128GB of solid-state storage. Connectivity isn't lacking, either, with USB Type-C, WiFi a/b/g/n/ac (2.4/5GHz), and Bluetooth 4.1.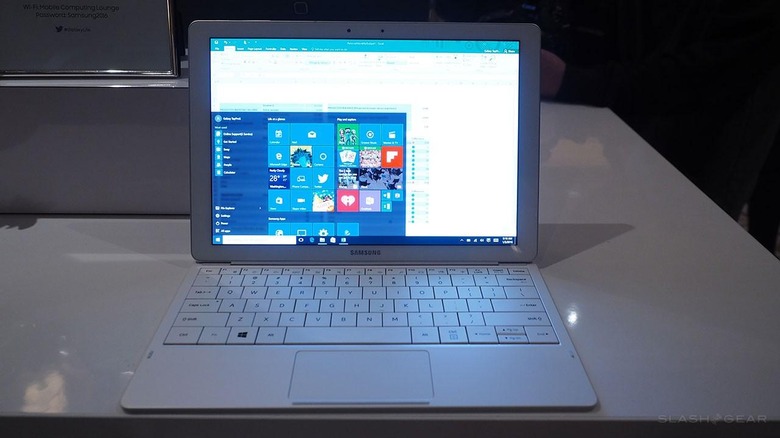 Unlike the iPad Pro there's no digital stylus, at least not yet – one will follow later on in 2016 – but you do still get an excellent Super AMOLED display, running at 2160 x 1440 resolution.
Both the front and the back of the tablet get a 5-megapixel camera – the back upgrades to autofocus, too – and there's a microphone, 3.5mm headphone jack, and speakers. If you're a Samsung Galaxy smartphone user, the TabPro S offers Samsung Flow for remotely controlling the phone from the tablet, as well as accessing its cellular connection from afar.
The latter assumes you didn't cough up the extra for the LTE version of the TabPro S, of course, which has its own 4G connection. Pricing and availability for that in the US are yet to be confirmed.
For the WiFi-only model, your $899.99 gets you both the tablet, its keyboard case, a power adapter, and a USB to USB Type-C cable which is used both for charging and data.
In contrast, an iPad Pro is priced from $799, though that only has 32GB of storage. If you want to match the 128GB in the Samsung slate, you're looking at $949; either way, Apple's keyboard case is extra, adding $169 to the total.
NOW READ: Samsung TabPro S first-impressions
Your decision probably comes down to the sort of apps you want to run, and what existing ecosystem of devices and software you already have. If you're an iOS/OS X fan, the iPad Pro's tight integration with Apple's software and hardware might be tough to beat, and of course for the moment it's the only one of the pair to offer a stylus option (though the Apple Pencil is a $99 add-on).
In Samsung's favor is its integration with Android smartphones like the Galaxy S7, as well as the full range of Windows 10 apps that are compatible with Microsoft's desktop OS.