Samsung's Series 6, 7, 8 & 9 LCD and Plasma TVs announced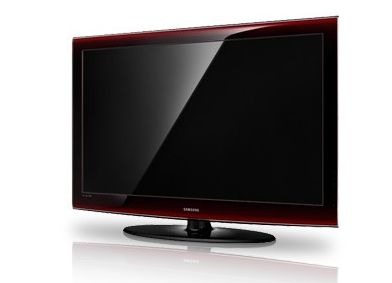 We may receive a commission on purchases made from links.
If your TV tastes swing a little larger than their new Touch of Color monitors, Samsung have just the larger screens for you.  Unveiling its holiday lineup of Series 6 through 9 LCD and plasma HDTVs, the company has extended Touch of Color throughout as well as adding features such as compatibility with USB flash drives and RSS for on-screen news and weather updates.
The Series 6 LCDs will be available in 40-inch, 46-inch and 52-inch sizes, all with 40,000:1 dynamic contrast ratios and 4ms response time.  They have built-in NTSC/ATSC/Clear QAM tuners, three HDMI 1.3 ports, a single side-mounted USB for MP3 and JPEG playback off a flash drive and display full 1080p high-definition.  They'll be available in August for $1,699.99, $2,099.99 and $2,699.99 respectively.
The Series 7 are Samsung's plasma range, and come in 50-inch, 58-inch and 63-inch sizes.  All are 1080p with 1,000,000:1 dynamic contrast ratio, 1,300 cd/m2 brightness and Natural True Color 18-bit processing.  They also include a USB port, which can cope with MPEG4, XviD, MP3 and JPEG files, as well as having their own internal flash memory; Samsung's InfoSync service is basically news, weather and stock information delivered via RSS.  Expect four HDMI 1.3 ports and ethernet, among others, when they launch for $2,799.99, $4,499.99 and $4,999.99 respectively.
The Series 8 get super-skinny frames, just 1.9-inches wide, around either 46-inch or 52-inch 1080p panels.  50,000:1 contrast ratios and 4ms response times are coupled with Ultra Clear Panel anti-glare technology, Auto Motion Plus 120MHz and Wide Color Enhancer 2; there's also InfoLink and the WiseLink Pro USB system.  Two ranges of Series 8 will be available, the 850 in 'Rose' with a single USB or the 860 in 'Deep Blue' with two USB; both ranges have four HDMI 1.3 ports and ethernet, and are DLNA certified.  Expect to pay $2,699.99 or $3,399.99 for the 46- or 52-inch 850 versions, and $100 on top for the 860 versions. 
Finally, Series 9 gets all the benefits of the earlier LCD TVs together with LED backlighting, 1,000,000:1 contrast, 4ms response time and SmartLighting to selectively shut off the backlight for individual pixels for deeper blacks.  Available in August in 46- and 55-inch sizes, they each have four HDMI 1.3 ports and will be priced at $3,199.99 and $4,199.99 respectively.
Series 8 and Series 9 sets will be compatible with Samsung's new Wireless LinkStick, a $35 accessory that allows for wireless connection to the InfoSync RSS service (rather than demanding an ethernet cable).
Samsung LCD and Samsung Plasma TVs