Samsung's Q2 2013 shows investors value analysis over record profit

Though Samsung's financial quarter announcements this week showed the company to be kicking up a storm (metaphorically, of course), with the Galaxy S 4 family of devices on the market today, shares fell internationally at word that analysis projections were not met. This sort of thing isn't unheard of, but to the lay person, it's not the easiest thing to make simple sense of. Why, if Samsung's quarterly profits are up 47% compared to this quarter last year, are investors spooked enough to kick down shares 4% in the Seoul stock market?
You'll find The Guardian quoting analyst CW Chung from Nomura Financial Investment in Seoul speaking on how "because of the marketing costs, the telecommunications business was probably weaker than expected." Meanwhile Bloomberg quotes analyst Neil Mawston, executive director of Strategy Analytics saying "Apple is suffering from iPhone fatigue, while Samsung is suffering from Galaxy fatigue."
The latter quote was issued before earnings were sent out publicly by Samsung while the same source has Byun Han Joon, a Seoul-based analyst at KB Investment & Securities Co., speaking after the fact:
"It sharply missed the market expectation, and that worries me. The market was initially concerned about the third- and fourth-quarter results, but today's news raises questions if the earnings are already in bad shape." – Byun Han Joon
This analyst speaks on the idea that what Bloomberg quotes as a "58.6 trillion-won average of 38 estimates" as concerning when compared to Samsung's actual sales at 57 trillion won in this most recent quarterly results report. Estimates appear more important right this minute than the fact that sales ramped up from 47.6 trillion won this same quarter a year earlier – that's no bump to scoff at.
And know this – final results haven't even been announced yet in full. Today's report from Samsung is only a preliminary report on their full financial Q2 2013 results which will be announced on July 26th. It would seem instead that the company is only preparing the world for their full report which will appear on July 26th.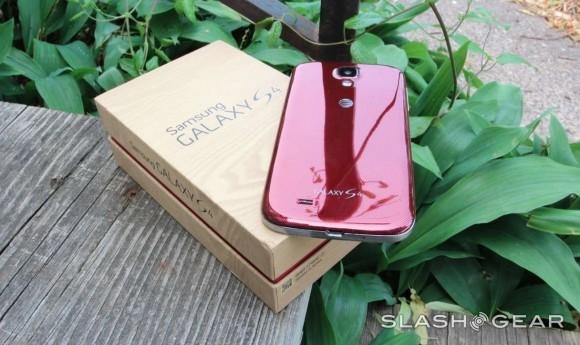 You'll find more information on what Samsung spent is money on this newest quarter in SlashGear's first story on the company's day, there speaking more on the stock drop when it was just 3% where here final numbers for the day set stock at 4% lower than at the beginning of the day.
There is indeed a supposed "slow down" that could be attributed to smartphone fatigue. Samsung's mobile business continues to grow, but down to 4-percent above the quarter before this one rather than the 8-percent of that quarter compared to the one before it.
Samsung will be kicking out somewhere around 20 million Galaxy S 4 unit sales with 100 million units being eyed for the all-time unit sales record – eventually, that is. And it's Jung Sang-jin, a fund manager at Dongbu Asset Management, (owner of Samsung shares) quoted by Reuters, that puts the situation in a rather clear light:
"Is Samsung's smartphone story now over? Not quite yet. It's growth is indeed slowing due largely to disappointing sales of the S4. Yet I think Samsung has some exciting stuff up its sleeves. The problem is no one is sure whether these products can really wow investors and consumers." – Jung Sang-jin
Encouraging enough for you? We'll see how the market reacts when Samsung actually truly does announce their real final numbers later this month.