Samsung's Galaxy S2 makes unplanned teaser appearance [Video]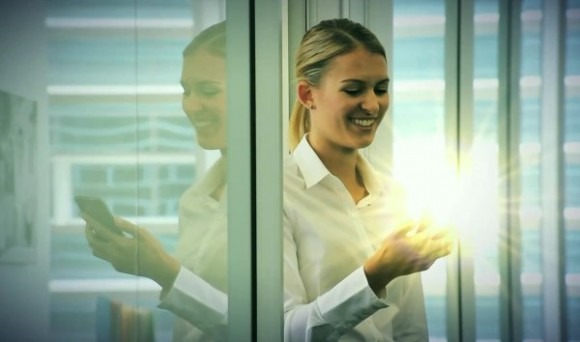 It's the season for smartphone teasers; LG has been working the Optimus 3D angle, and Samsung has been making a song & dance about the Galaxy S2, the dual-core successor to their wildly popular Galaxy S family. All in the run up to MWC 2011 of course, and in the excitement it's easy to make a mistake: like, oh, forgetting to double-blur your Galaxy S2 pre-advert and mask out the device itself.
Video after the cut
As Engadget spotted, while Samsung's video editing people have been very careful to mask out any sign of a device in its models' hands, that thoroughness didn't quite extend to any reflections in shot. So, when the grinning lady in the screencap above is busy being blinded on the right, she's also looking straight at an unmasked smartphone in the reflection on the left.
Now, it's not clear whether Samsung has actually used real Galaxy S2 handsets for the filming of the promotion – we imagine those with better eyesight than us are already creeping through the 1080p version of the teaser on a frame-by-frame basis – but we won't let that worry us too much. After all, SlashGear is off to MWC 2011 in just a couple of weeks time, and we'll have all the news for you then.
[via Android Community]