Samsung's flying display drone is like a floating tablet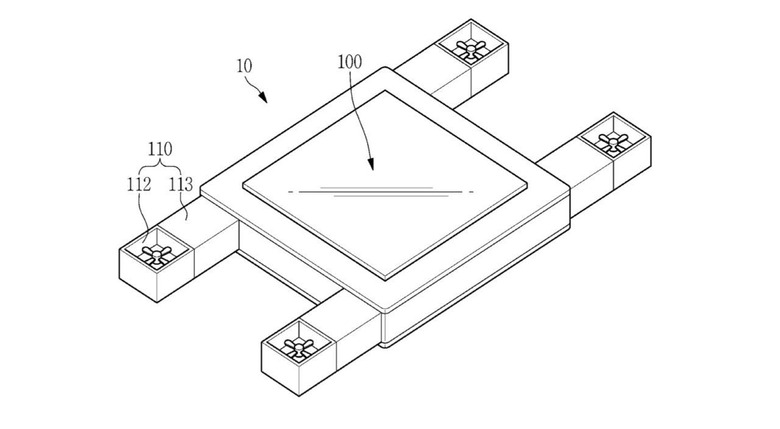 You can't have a good futuristic dystopian city without huge flying displays, and so thankfully Samsung is apparently working on just such an idea. The company's Samsung Display screen-focused arm is usually responsible for OLED panels on smartphones like the upcoming Galaxy S9 or curved screens for huge 4K TVs, but now it's looking to the skies.
At least, that's what a new US patent – filed in early 2016 but only granted last week – suggests. Titled "Flying Display Device," the Samsung Display filing spotted by LetsGoDigital describes an oddly-proportioned drone which could use four propellers to effectively fly a display panel around. It also gives a few examples of how that could be used in practice.
Certainly, this is not your usual drone form-factor. While we've seen quadcopter companies do their level best in recent years to slim down their crafts as much as possible, Samsung's strategy takes things in completely the opposite direction. A sizable screen is suspended in-between the four rotor assemblies, with everything mounted on posable joints.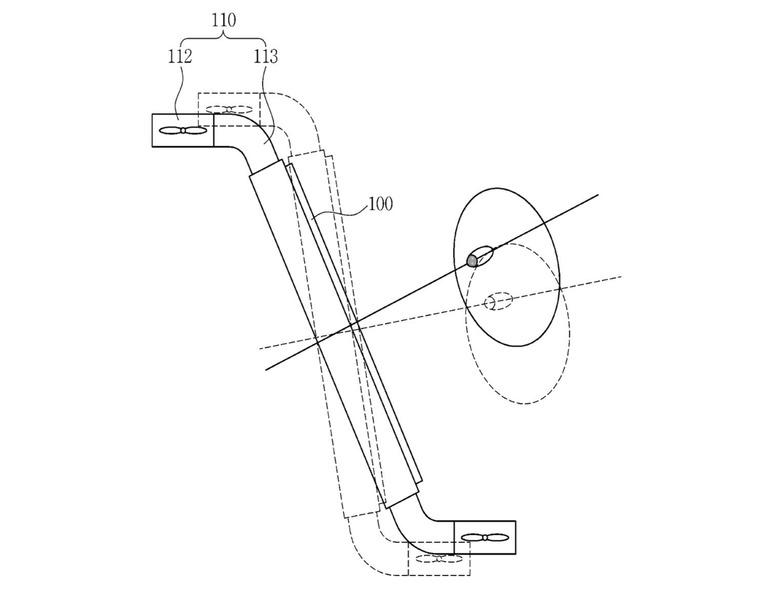 That last part is important, since a horizontally-oriented screen isn't much use. Instead, as Samsung Display envisages it, the flying display would use eye-tracking to figure out where the viewer is looking, and then pivot the arms on which the propellors are mounted so as to swivel the screen to the best angle. That leaves some of the rotors at the top, with others at the bottom.
Alternatively, another idea Samsung outlines in the patent would see the display panel itself moving. In that version, the screen would be hinged on one edge, lifting so as to be more easily seen by the viewer, while the body of the drone would remain horizontal. Either way, Samsung would use a combination of user-tracking cameras and vibration monitoring to keep the screen as stable and visible as possible.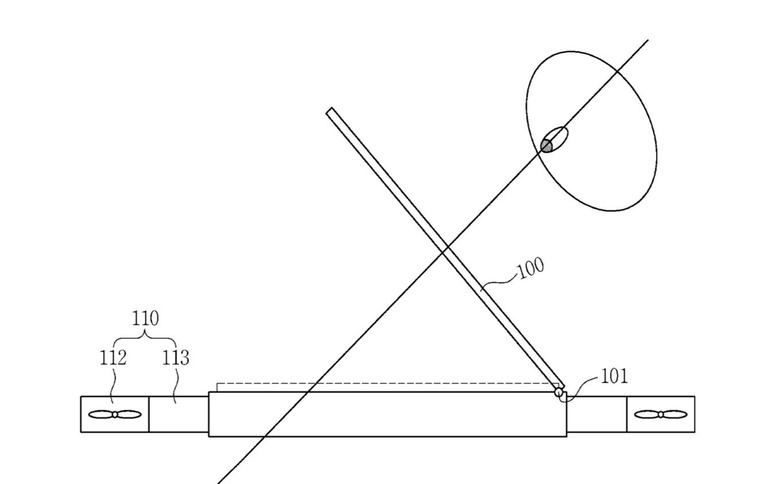 As for how you might actually use such a flying display, Samsung has a few ideas there, too. Its cameras and other sensors could allow for gesture tracking, or even using gaze or pupil position to figure out where the user is watching and what aspect of the screen they'd like to interact with. Voice control is another possibility, either using microphones built into the drone itself, or remotely connected. Or, you could just use a good old fashioned Bluetooth keyboard or other wireless device.
What might all this be used for? Beyond props for science-fiction movies, it's not entirely clear, though some sort of autonomous terminal that can follow you around as you work seems one possibility. Advertising that swoops down and tries to interact with you is another. Alternatively, Samsung could try to oust LG's airport-roaming assistance robots with some customer information drones of its own, though whether being harried from the skies as you rush between gates is something travelers would want remains to be seen.