Samsung's 2014 Home Entertainment lineup availability unveiled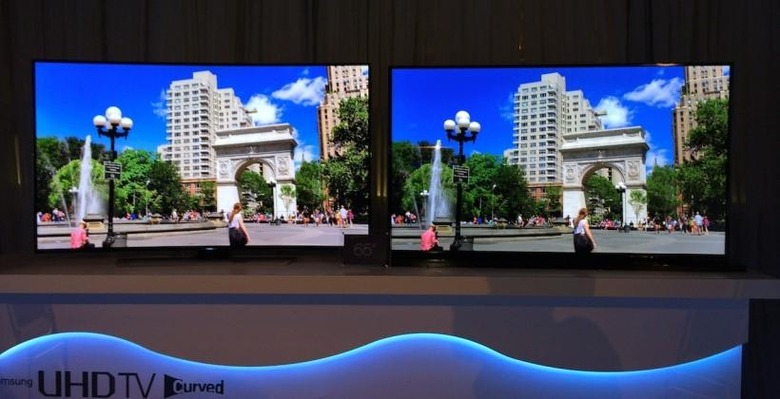 In addition the U9000 UHD TV series, Samsung has unveiled the pricing and availability for its 2014 home entertainment product lineup, which includes a slew of curved UltraHD and LED televisions and audio devices. In addition to the products, Samsung has revealed a partnership with 20th Century Fox to bring its customers Ultra HD content.
As far as televisions go, Samsung's 105-inch curved UltraHD television will launch in the second half of the year, while the U8700 will be available in late spring (pricing still unknown), and the U8550 — a non-curved UHD television — will arrive in May starting at $2,500 USD. A couple LED TVs will also be arriving soon: the H8000 this May starting at $2,000 and the H7150 FHD will be available this spring starting at $1,900 USD.
From there, a variety of audio systems will also be arriving this year. The M5 Speaker is slated for this spring at $300, while the HW-H750 Soundbar will be priced at $800 USD, the MX-HS9000 GIGA at $1,500, and the HX-HS8500 GIGA at $1,300. The HW-H600 Soundbar, meanwhile, is set to come this month at $400.
Rounding it all out is the Samsung BD-H6500 Blu-ray Player that will arrive some time this spring for $180 USD.
Speaking on the new partnership, 20th Century Fox's President Mike Dunn said, "Our partnership with Samsung creates a unique opportunity to introduce Ultra HD movies to audiences around the world. We are laser-focused on developing solutions that bring innovations like Ultra HD from the CES show floor to the living room for people to own and enjoy."
SOURCE: BusinessWire