Samsung YP-P3 Bluetooth PMP reviewed: promising but flawed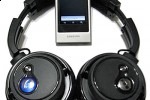 With the excitement over the news that, come the Summer, the iPod touch 2G would have its A2DP Bluetooth unlocked, it seemed many had forgotten that there are already a fair few PMPs with the ability to hook up with your cordless headphones.  The Samsung YP-P3 is one such device, a capacitive touchscreen PMP with Bluetooth, up to 16GB of onboard storage and DivX/Xvid playback.  Everything USB took a look to see if Samsung have beat Apple to the punch.
In its favor, the YP-P3 sounds great (though wired headphones at least) and has an intuitive, non-Apple-esque GUI.  The range of supported formats on offer is broad, and battery life is good.
Unfortunately, the YP-P3 is let down by overly-compressed sounding Bluetooth A2DP audio, a temperamental touchscreen and poor ID3 support.  The latter is particularly disappointing, considering it's not like ID3 is anything like a new development (nor the AAC and FLAC files the P3 had issues with).  That's enough for a partial success, but not the iPod touch grandslam some may have hoped for.