Samsung Yepp YP-P3 officially makes it to Korea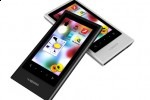 Recently we have seen plenty of leaked pictures, FCC reports and even an unboxing video of the Samsung Yepp YP-P3 PMP. Now Korea is finally getting it just before CES 2009. There are no surprises as far as technical specifications go; you will be getting the same great personal music player (PMP) with Bluetooth 2.1 support.
The 3-inch 480 x 272 touchscreen with haptic feedback is the same as you would find on the P2. The new UI is flash based with customizable wedges – see video below for demonstration. You can expect to get about 30 hours of audio playback of the Samsung Yepp YP-P3. Much like we are seeing in currently iPods, the P3 will have a brushed aluminum body that feels weighted in your hand.
The Samsung Yepp YP-P3 even has a built-in speaker for those who do not always like to use a headset. 2009 proves to be a very exciting year for PMP and touchscreen devices of all kinds with every new device we hear about. There are still no US prices on the Samsung P3, but people in Korea can pick this handset up in January for 239,000 won ($177) for the 4GB, 279,000 won ($207) for 8GB, and 329,000 won ($244) for the 16GB.