Samsung YP-P3 PMP images leak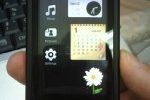 We've been hearing bits and pieces of information about the Samsung YP-P3 PMP for a while now, but this seems to be the first time real life, in the flesh, images have been leaked out. And it certainly does look interesting, folks.
The latest version of Samsung's media player has added a bunch of new features including haptic feedback. This touchscreen PMP appears to be equipped with new widgets, and other features such as Bluetooth 2.0, a microphone, a mono speaker, an FM tuner and more.
According to Generation MP3, there will be several different versions of the YP-P3, including a 4GB, 8GB, 16GB and a 32GB version. An all aluminum casing is sure to draw attention as well. Unfortunately, we don't have any information on when this device will become available or how much it will cost, but it is likely an official announcement will come at CES in January.