Samsung YEPP YP-MB2 Android MID with WiFi & AMOLED tipped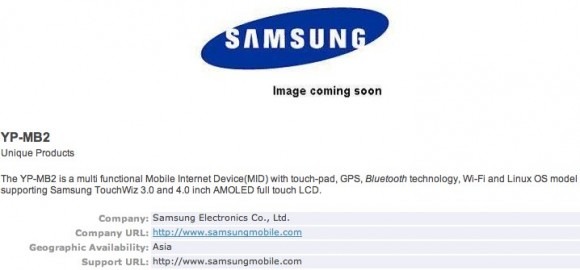 It's been a while since we've seen a new Samsung YEPP PMP, but according to a new listing at the Bluetooth SIG the company have something quite interesting up their sleeve.  The Samsung YEPP YP-MB2 is described as a "multi-functional MID" that comes with Bluetooth 2.1, WiFi, GPS and a 4-inch AMOLED touchscreen display, and runs the Android OS.
There's also Samsung's TouchWiz 3.0 UI – as on the recent Wave S8500 and Galaxy S smartphones – together with a touch-pad for navigation.  Full specifications for the MID are unknown, but it is confirmed to support Bluetooth A2DP (with the AVRCP remote control profile) together with Object Push (as both client and server) and remote phonebook access.
No sign of a photo as yet, nor any hint of release dates.  However the "geographic availability" being limited to Asia in the listing doesn't fill us with immense hope of seeing the YEPP YP-MB2 in the US or Europe.
[via Android Community]