Samsung 'World's Brightest' 46-inch LCD enters mass production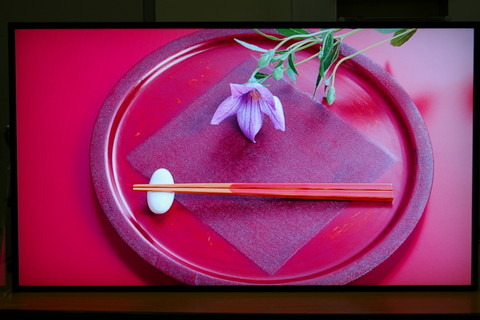 Samsung have today announced that they've begun mass producing their latest LCD panel, a "high bright" display measuring 46-inches.  The screen, which is intended initially for digital signage, is the brightest LCD in the world, at 1,500-nit.  That's around three times as bright as a typical LCD.
The panel has a contrast ratio of 3,000:1, and is clearly visible even in well-lit areas.  Samsung have designed it so that multiple panels can be tiled together into video walls.  On its own it is 1,366 x 768 resolution, and has a 178-degree viewing angle.
This isn't something you're likely to see in your front room anytime in the near future; for a start it'd probably be too bright to make for comfortable viewing.  However Samsung are estimating the panel will enter volume shipping later on this month, so there's a fair chance you may come across one at the mall or at a sports venue.
Press Release: 46-inch Panel with Brightest LCD Adds New Dimension in Digital Signage for Outdoor Displays and Tiled Video Walls
San Jose, CA – May 7, 2008: Intent on producing the most innovative technology for digital information displays (DIDs), Samsung Electronics Co., Ltd., the world's largest provider of thin-film transistor, liquid crystal display (TFT-LCD) panels, today announced that it has begun mass producing a 46-inch "high bright" digital signage panel – the brightest LCD panel in the world.
Samsung said that its new 1500-nit LCD panel is now available for use in digital signs for transit centers, bus shelters, museums, shopping malls and for use at point of sale in retail outlets, to replace outdated poster advertisings. The panel is designed to optimally accommodate the tremendous range of lighting conditions affecting displays.
"Advertisers and outdoor media companies want an energy-efficient display that draws the attention of shoppers and travelers in the middle of the day under bright indoor lighting or strong natural lighting and that's exactly what we're delivering," said Scott Birnbaum, vice president, Samsung LCD Business. "With our high bright and other Samsung DID panels, we're ushering in a new age of advertising that provides mesmerizing imagery that is as informative as it is attention-grabbing."
The Samsung "high bright" DID panel is about three times the brightness of a typical LCD TV today. It also features a contrast ratio of 3000:1.
Samsung's high-bright DID LCD panel produces a high definition image with 16.7 million colors and a screen resolution of 1,366 x 768 pixels. It also provides the widest viewing angle available today: 178 degrees. The panel was designed so that it can be tiled together to create spectacular outdoor and indoor "video wall" effects.
Samsung achieved the extreme brightness level of its high-bright DID by making use of high-performance, cold-cathode fluorescent lamps (CCFLs) that operate on a very high current, and use an extremely thin color filter.
Samsung will begin volume shipping its high-bright DID display later this month.