Along with the WB350F compact camera, Samsung also introduced the WB2200F during CES 2014. While the former is touted as a compact camera and has a 21x optical zoom, the latter takes things up quite a bit in terms of the zoom level. The WB2200F brings an optical zoom of 60x.
Aside from the increase with the zoom, and the obvious difference in looks and style, the WB2200F shares some common features with the WB350F. To that point, the WB2200F has a 3-inch hVGA LCD display and a 16-megapixel backside-illuminated CMOS sensor with 20mm wide-angle lens.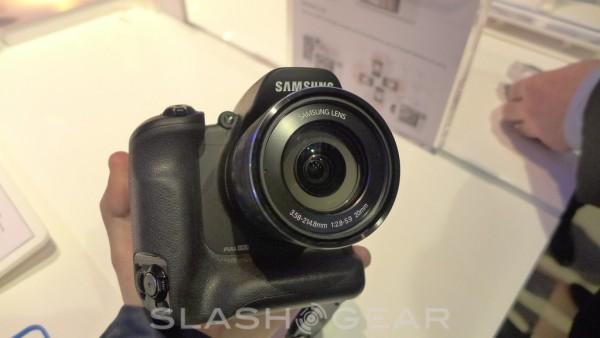 This model also has WiFi and NFC for connectivity along with a variety of options when if comes to shooting and sharing pictures. Those last two points come with little in terms of surprise given this is a Samsung camera. Otherwise, those considering a purchase can expect to find support for SDHC memory cards up to 32GB in size and SDXC memory cards up to 64GB in size.
The camera itself weighs in at 608 grams and measures in at 119 x 121 x 35mm. As for video quality, that would be Full HD at 30 frames per second. Everything looks good in terms of the specs and features, but there is one bit we have yet to get a good answer on — the battery life. So far Samsung has said it will be long enough to allow "users to indulge their passion for longer periods of time than ever before."