Samsung Wave S8500 hands-on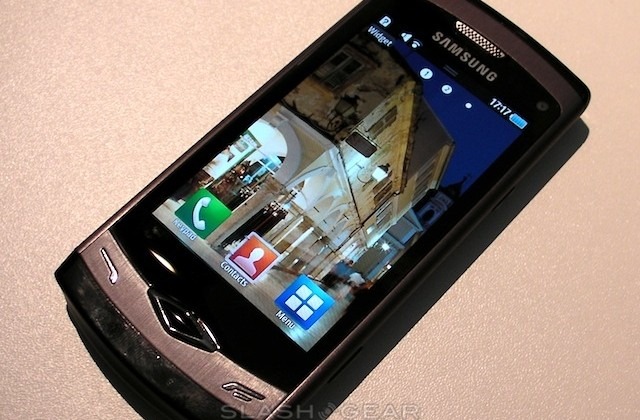 We didn't hide our confusion back at the Samsung bada launch late last year; at the time, a disappointingly vague presentation and a complete absence of demo devices left us uncertain as to where Samsung expected the new smartphone-for-the-masses platform to fit into the current ecosystem. Having spent some decent hands-on time with the first bada phone, the Samsung Wave S8500, and our very own hands-on at MWC 2010 – we're a little more confident in the device if not the positioning. Check out our first impressions – and video – after the cut.
Looking at the Wave as its own device, we were surprisingly impressed. The hardware is pleasingly slim and has a real premium feel, while the 3.3-inch AMOLED display is bright and color saturated. Samsung are calling it a "Super AMOLED" panel, since they've integrated the capacitive touch layer and the display layer; that makes for a slimmer unit altogether, but it also gets rid of the "recessed" display effect seen on other devices. Put next to a Google Nexus One, as you can see in our gallery below, the Wave's display is flush with the screen surround, while the Nexus One's display looks dropped deeper down.
While we were dealing with pre-production hardware, the capacitive display seemed pretty responsive. Contrary to Samsung's initial publicity, the Wave does indeed support multitouch, though not across all of its apps. The photo gallery and browser both respond to pinch-zooming, but the maps application only supports Samsung's single-finger zoom system. Saying that, it's a slick implementation: press a finger and hold it on the screen and up/down arrows appear; slide your finger up or down and the Wave zooms accordingly. It's particularly usable when you're trying to operate the phone single-handed, and we're glad to see it's an alternative zoom method to the software that also supports multitouch gestures.
Video obviously looks great on the AMOLED display, but Samsung have also thrown in an unusual skipping feature. Rather than blinding dragging the scroll bar, the Wave quickly analyses the entire clip and presents a grid of thumbnails picked out from along the timeline. Tapping one of those thumbnails takes you to that point in the video, and starts playback. There's also strong media integration with Samsung's Social Media Hub, which pulls in networks like Facebook and Twitter and allows for direct uploads.
Unfortunately things aren't near market-ready at this point, and all of the Wave devices we tried out proved to be glitchy and crash-prone at some point. The web browser often hung and then needed to be force-closed, and most of the apps on the floor demo units fell short of the kind of stability a commercial release (especially for those coming from featurephones) would require. Of course, Samsung have a while to polish things up before sales begin.
That'll also give developers an opportunity to get moving on Wave, and those we spoke to – with the obvious proviso that they're at the show at Samsung's behest – complemented bada for its ease of programming. One gaming title – in which you guide a moth via a network of reflected beams of light – is the first mobile attempt from a PS3 development studio; they told us they'd need to spend four-times the amount coding cost on marketing if they were attempting to break into the iPhone gaming market. bada is based on C++, which does make things easier, though of course it's also easy to make a splash when you're one of the first handful of developers on a platform.
Overall, the Wave S8500 is another decent Samsung phone, and should appeal to those looking for impressive media playback and social network integration. Whether Samsung will make an equal splash with bada remains to be seen; it'll take a combination of compelling devices along with developer support, and Samsung will have to convince consumers and industry alike that bada really is a smartphone OS rather than the featurephone OS it, if we're honest, looks like.