Samsung Wave powered-by Bada OS featuring 3.3-inch Super AMOLED & Bluetooth 3.0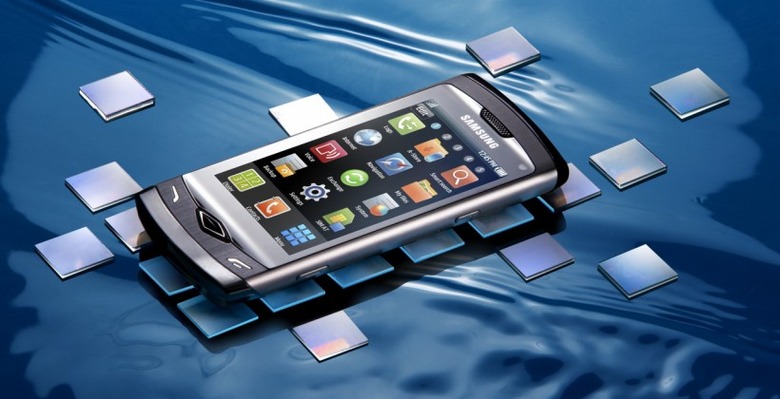 Samsung's very first Bada handset – the Wave (S8500) was announced earlier tonight. The Wave is one of the first handset feature Bluetooth 3.0. The 3.3-inch "Super AMOLED" display with 800x480 resolution doesn't offer multitouch but instead a brighter, clearer and less reflective thanks to the OnCell technology. Samsung went the extra mile by adding mDNle (mobile Digital Natural Image engine) technology, which originated in Samsung's LCD TV and LED TV.
Other features include Bluetooth 3.0, 802.11n WiFi, TouchWiz 3.0, an unspecified 1GHz processor, 5 megapixel camera, 2GB or 8GB internal memory, aGPS, accelerometer, a microSD expansion slot, multi-codec support for DivX, XviD, MP3 and WMV, and support for virtual 5.1 surround sound and 720p recording / decoding.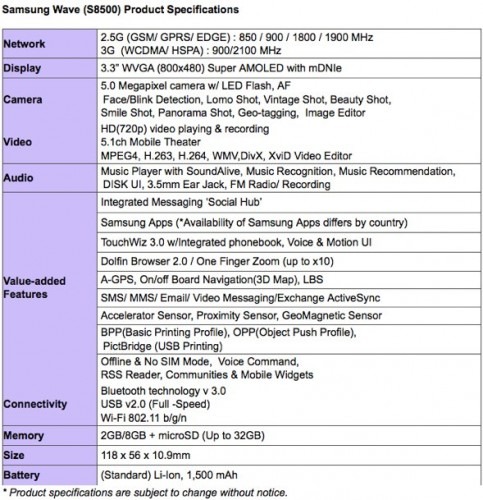 Wave's expected to release in April but pricing is still to be determined.
Samsung Delivers Brilliant New Smart Phone Experience

with Launch of Samsung Wave

· Full touch Super AMOLED offers the best ever viewing quality on a mobile

· Social Hub brings all your social networks together in one, unified solution

· TouchWiz 3.0 expands Smartphone usability to the next level

February 14th, 2010, Barcelona, Spain – Samsung Electronics Co. Ltd., a leading mobile phone provider, today announced the launch of the Samsung Wave (Model: S8500). This is the first mobile handset to be released on Samsung's new, open mobile platform, Samsung bada, and the cornerstone of the company's commitment to provide a smartphone for every lifestyle.

The Samsung Wave offers a Super AMOLED 3.3" display that makes the screen truly come alive, a Social Hub to bring you closer to your contacts and connections, and TouchWiz 3.0 for an intuitive and hugely customizable user interface. The Wave's high-speed CPU ensures swift, smooth application experiences and multi-tasking, making the device an always-on mobile multimedia companion. The Samsung Wave has been built to offer users an unrivalled level of performance, customization and choice in how they connect with their world. The stunning full touch mobile will be available globally from April 2010.

"The Samsung Wave truly demonstrates our commitment to deliver rich, connected and innovative smartphone experiences to everyone," said JK Shin, President and Head of Mobile Communications Business at Samsung Electronics. "Samsung Wave sees our platform vision become a reality. For the first time, developers have the freedom to create applications across multiple platforms, for consumption on a huge range of devices. In the Wave, our developer partners can see the ocean of opportunity that is offered by the bada mobile platform and our device technology," he said.

Super AMOLED – Seeing is believing

With the Samsung Wave, seeing really is believing as it features the world's first Super AMOLED display; delivering an unrivalled screen experience on a smartphone. The Super AMOLED offers much brighter, clearer, and less reflective AMOLED OnCell display, featuring a high resolution WVGA (800x480 pixels) screen with mDNIe (mobile Digital Natural Image engine) technology. DNIe technology is proven display technology which incorporated to Samsung's LCD TV and LED TV lineups. With a free viewing angle and super fast response, the Samsung Wave display provides superb image quality for viewing both videos and photos.

Social Hub – my communities at my hand

Social Hub has been designed from the ground up to seamlessly integrate all major portal's email, IM and SNS services directly into the Samsung Wave. With its TouchWiz 3.0 UI, it provides users easy-flow integrated experience of messaging, managing contacts and viewing calendar events. Social Hub is powered by the amazing push technology to deliver email messages, calendar events and SNS updates in real-time.

TouchWiz 3.0 UI – new and improved

The Samsung Wave provides superior levels of choice to all users via its fully customizable menus and home-page. For those who demand access to their social networking sites at all times, the device allows users to change the layout of the home-page to allow instant access to Twitter, Facebook and a host of other social networking services. For those who love music, the device home-page can be turned into an intuitive media player; while for those who take and share a lot of photos, the home page can be customized to feature favourite images. Users will also benefit from Quick Panel, a way of prioritizing and aggregating applications into one screen for instant access.

With its eye-catchingly brilliant screen, Samsung's latest TouchWiz 3.0 user interface gives a tactile, intuitive user experience, and includes iconic new features such as motion UI, Smart Unlock and customizable widget screen.

Speed, performance and beauty

The Samsung Wave benefits from a superb 1GHz processor which offers users the best graphic performance available today. Its speed makes the touch screen user interface incredibly responsive and intuitive and, more importantly, means that the 3D and memory-intensive graphic and video performance is unsurpassed.

The Samsung Wave is also one of the most attractive devices with seamless, streamlined body that has no parting or harsh lines. A beautiful and strong tempered glass display perfectly complements and enhances the vividness of the Super AMOLED display. Furthermore, with anti-smudge technology, those greasy thumb prints are a thing of the past.

Multimedia features and connectivity

Multi-codec support for DivX Xvid, MP4 and WMV, and support for virtual 5.1 surround sound delivery transforms the device into a personal entertainment system and HD video (720p) decoding and recording capabilities make the Samsung Wave an outstanding device for capturing, sharing and viewing video.

For the first time in the world, Samsung Wave is incorporated Bluetooth® 3.0 and WiFi 802.11n standard.

Samsung Apps: unlimited expandability

Samsung's bada platform allows mobile users to simply and easily download an abundance of applications from Samsung Apps, an integrated application store accessible from the device and online. Featuring a wealth of games, navigation, social networking, e-book, health and lifestyle applications, Samsung Apps gives users instant access to a huge choice of mobile experiences.