Samsung vs Apple Mobile Profits: the big Strategy Analytics mix up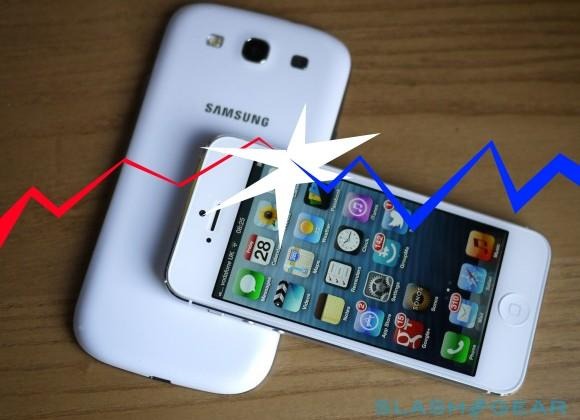 We may receive a commission on purchases made from links.
It should be clear at this point that Samsung's profits in the mobile sector have not, as a report by Strategy Analytics last week suggested, taken over Apples'. According to Strategy Analytics, "Samsung's operating profit for its handset division stood at US $5.2 billion in the second quarter of 2013" while Apple "recorded an estimated iPhone operating profit of US $4.6 billion". And that's essentially the extent of their basic report – this is not just far too limited to have covered the claim they've made, it's simply inaccurate.
Strategy Analytics claims "Global Handset Operating Profits" in converted US dollars for Samsung was $5.2 billion in the second quarter of 2013, while Apple's was $4.6 billion. This is the quarter ending in June of 2013, which for Apple is fiscal Q3 and for Samsung is fiscal Q2.
According to Apple's Form 10-Q for this quarter as filed with the United States Securities and Exchange Commission, Apple's total operating income was $9.2 billion USD – this minus Apple's $2.5 billion in taxes makes a total of $6.9 billion in net income.
As Apple Insider notes, it's from that $9.2 billion in operating profits that Strategy Analytics appears to get their total "global handset operating profits" for Apple. This comes from the idea that the iPhone accounts for a total of 51% of Apple's total business.
Meanwhile you'll find that Samsung's total reported operating income was (converted from Korean Republic Won) in at $8.56 billion, minus $1.84 billion for taxes, ringing in at $6.98 billion in net income.
Samsung's breakdown of device sales and profits is done – for mobile – with one called "IT & Mobile Communications." This includes everything from handsets to tablets, network equipment to PCs. Samsung reported that operating profits of (converted) $5.64 billion for this quarter came from this IT & Mobile Communications segment. Strategy Analytics "estimates" that $5.2 billion of this number accounts for non-network devices.
This number still includes Samsung's tablets, PCs, and Chromebooks, while the competing number here is just Apple's iPhone, and the iPhone alone. That comparison doesn't make sense to report. It's as simple as that.