Samsung Vibrant 4G headed to T-Mobile with HSPA+ 21+Mbps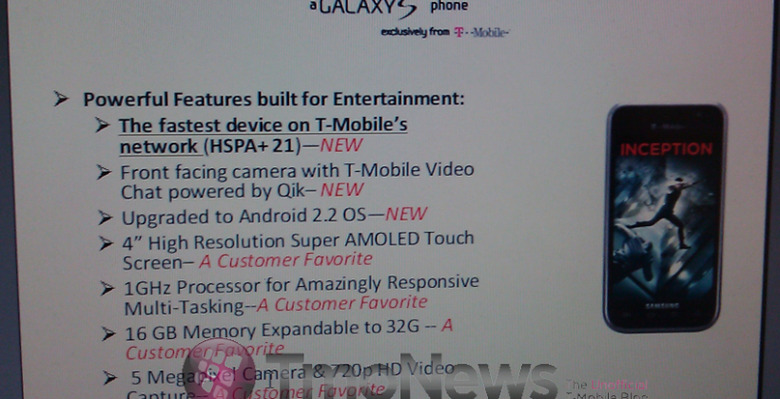 Details of Samsung's new Vibrant 4G have emerged, tipping the HSPA+ smartphone as the first device capable of 21+ Mbps speeds on T-Mobile USA's network. An update on the Samsung Vibrant – and itself previously rumored as the Vibrant Plus – according to leaks passed to TmoNews the new Vibrant 4G has the same 4-inch Super AMOLED display but upgrades the OS to Android 2.2 Froyo.
There's also the same 1GHz Samsung Hummingbird processor and 16GB of internal storage, along with a 5-megapixel camera on the back and a front-facing camera for video calls. T-Mobile has partnered with Qik – now owned by Skype, of course – for the video chat software.
According to other spec sheets, the Vibrant 4G will come preloaded with a copy of the movie Inception as well, together with doubleTwist Air Sync, Samsung Media Hub, Amazon's Kindle app and Mobile HD TV powered by T-Mobile TV. No word on pricing or availability.
[via Android Community]