Samsung unveils Galaxy Tab 2 10.1 with Ice Cream Sandwich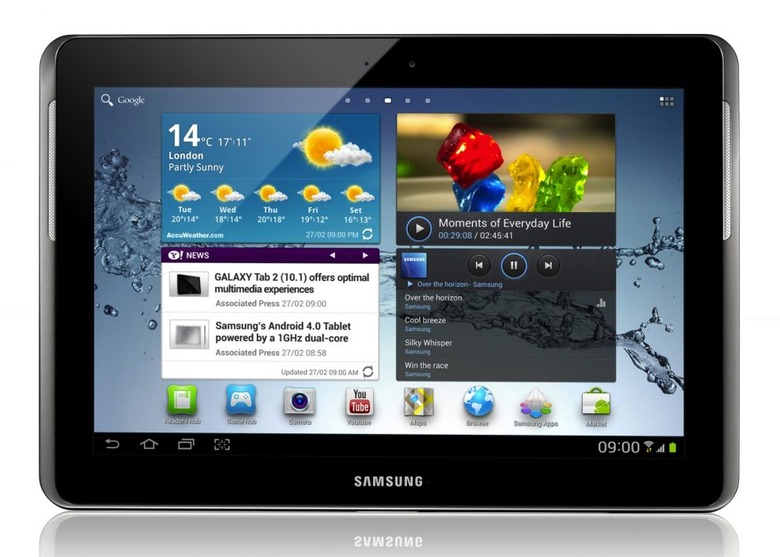 Samsung's hitting fast and hard with a gamut of press releases just hours before Mobile World Congress. The latest is the update to their flagship tablet, the Galaxy Tab 10.1, which has been somewhat lazily christened the Galaxy Tab 2, 10.1 inch version. From a hardware perspective it looks like an updated version of the Galaxy Tab 10.1N, the German variant introduced to curb Apple's enthusiasm for patent litigation. On the inside, it gets Ice Cream Sandwich with Samsung's TouchWiz UI skin.
Besides a swanky redesign with front-facing speakers (and branding), the Galaxy Tab 2 doesn't do much to push the envelope as far as specifications go. You still get the same 1280x800 LCD panel, running over a 1Ghz dual-core processor (make indeterminate) with a full gigabyte of RAM. Cameras are 3 megapixels on the rear plus an LED, but just VGA on the front. At the moment Samsung is pushing a connected HSPA+ version, but you can bet WiFi-only and CDMA variants will be made eventually. 16 or 32GB of internal storage can be augmented with a MicroSD card.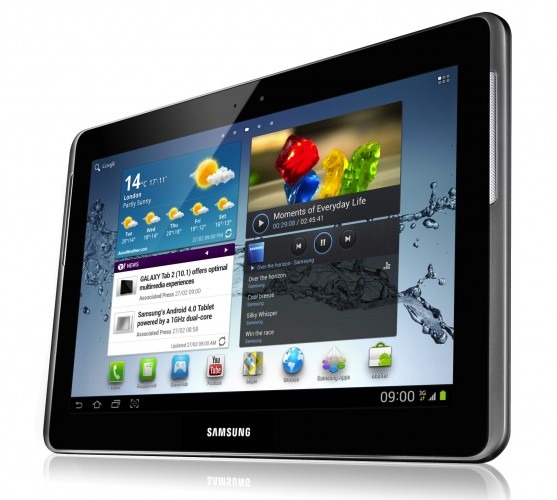 Like the 7-inch Galaxy Tab 2 before it, this one seems to be more of an evolutionary step for Samsung's tablet line. If they want to compete with the upcoming iPad 3 (whatever its magical hardware specifications turn out to be) this doesn't appear to be the way to do it. There's no details on price, but hopefully it'll hit at a lower entry than the $500 original when it launches globally in March.
The 10.1-2 is clearly distinct from the Galaxy Note 10.1, which has yet to get an official debut – we'll probably see that tomorrow or on Monday. There's also no sight of the rumored 11.6-inch Galaxy Tab, or its crazy resolution. Keep the Mobile World Congress portal open for breaking news.