Samsung top US phone firm but Apple growing fastest claims research

Samsung is the top mobile device brand of Q2 in the US, according to new research, while Android continues to dominate the smartphone market, though Apple's iOS is growing faster than Google's platform. Samsung cellphones comprised 25.6-percent of US device ownership between April and June 2012, comScore's research found, with LG in second place with 18.8-percent and Apple in third with 15.4-percent. However, it's not all good news for the Koreans, whose market share is headed in the wrong direction versus Apple's.
In fact, Samsung's mobile position dipped 0.4-percent quarter-on-quarter, while LG's dropped 0.5-percent. In contrast, Apple's share rose 1.4-percent – despite the fact that the company only offers three devices and no low-cost smartphones.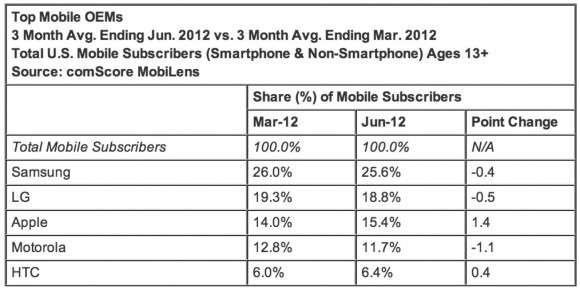 Looking at smartphones specifically, Android maintains its lead, growing 0.6-percent to 51.6-percent of the 110m devices in the US. Apple's iOS, however, rose more – up 1.7-percent – to take 32.4-percent of the smartphone market and extending its lead over third place RIM, which dipped 1.6-percent. Microsoft still struggles in forth place, dropping 0.1-percent to just 3.8-percent share.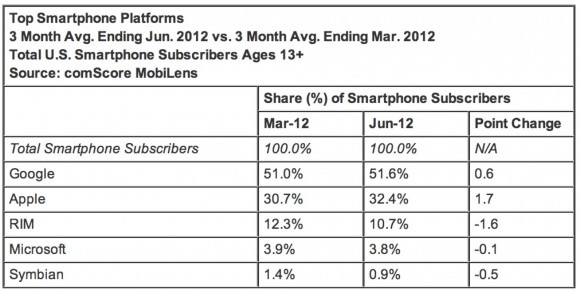 comScore bases its figures on more than 30,000 surveyed mobile device owners in the US. The company also found that mobile app downloads and listening to music rose in popularity the most among usage patterns, though text messaging remains the most popular activity.